👉 Self publishing tips from Award Winning Top 100 Business Author Gundi Gabrielle for writing and publishing your first book on Amazon and making it a #1 Bestseller in the next 30-90 Days! – Gundi has self published 12(!) #1 Bestsellers so far with over 200,000 downloads worldwide. Turning her books into a 6 Figure Passive Income machine that allows her to travel the world as a Digital Nomad – livin' the laptop lifestyle. 🏝
Publish a #1 Bestseller in 30 days…?!! 
.
WOW – that's crazy…! 😵 – is that even legit…?!
you might ask…
And the resounding answer is:
YES!!
It is absolutely possible – perfectly legit – and YOU can do it, too!
Take that for starters!! 😎
Now let me show you how:
👊
How can I say that with such certainty?
👉 Because I've done it 12 times. All my 12 books became not just bestsellers, but #1 Bestsellers, and I developed a system that is replicable and not dependent on luck!
👉Along the way, I outranked every famous business author in the Top 100 charts on Amazon:
👉 My very first book became a #1 Bestseller in less than 30 days and added an instant $1,000+ passive income stream – just like that!
👉 I wrote the Top Selling Publishing Guide in the Kindle store worldwide – and – the current #1 Bestseller in Authorship and Publishing :
Most importantly:
Thousands of my students around the world have also published #1 Bestsellers in their very first attempt – also frequently outranking famous authors as in these 3 examples, Hal Elrod, Simon Sinek & Tim Ferriss: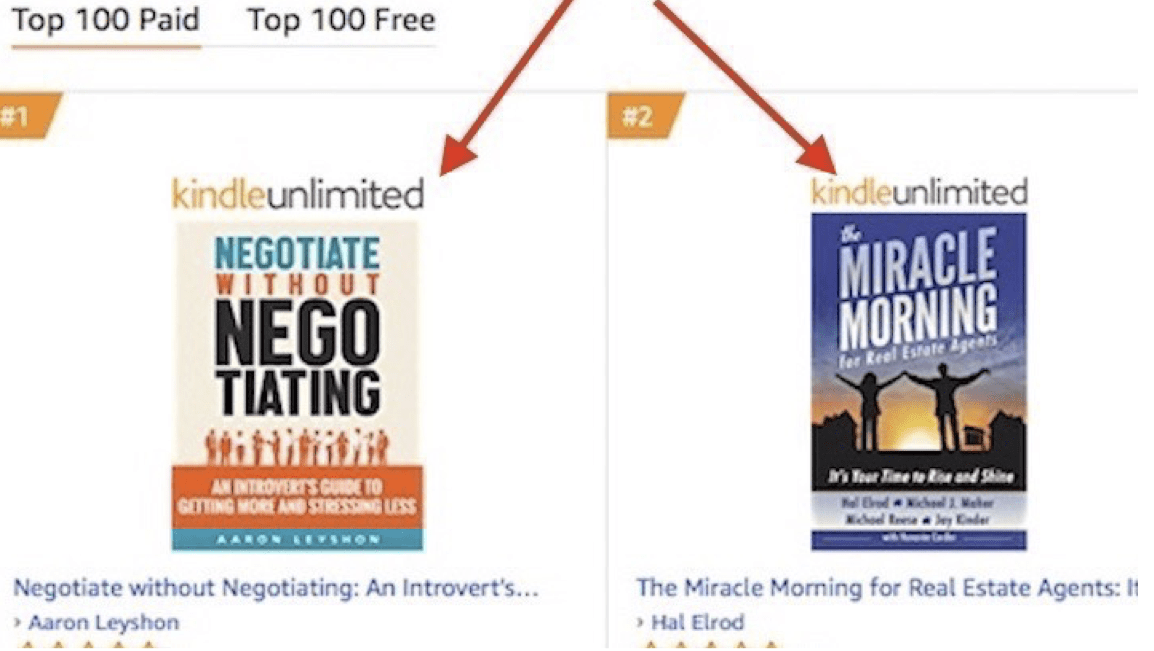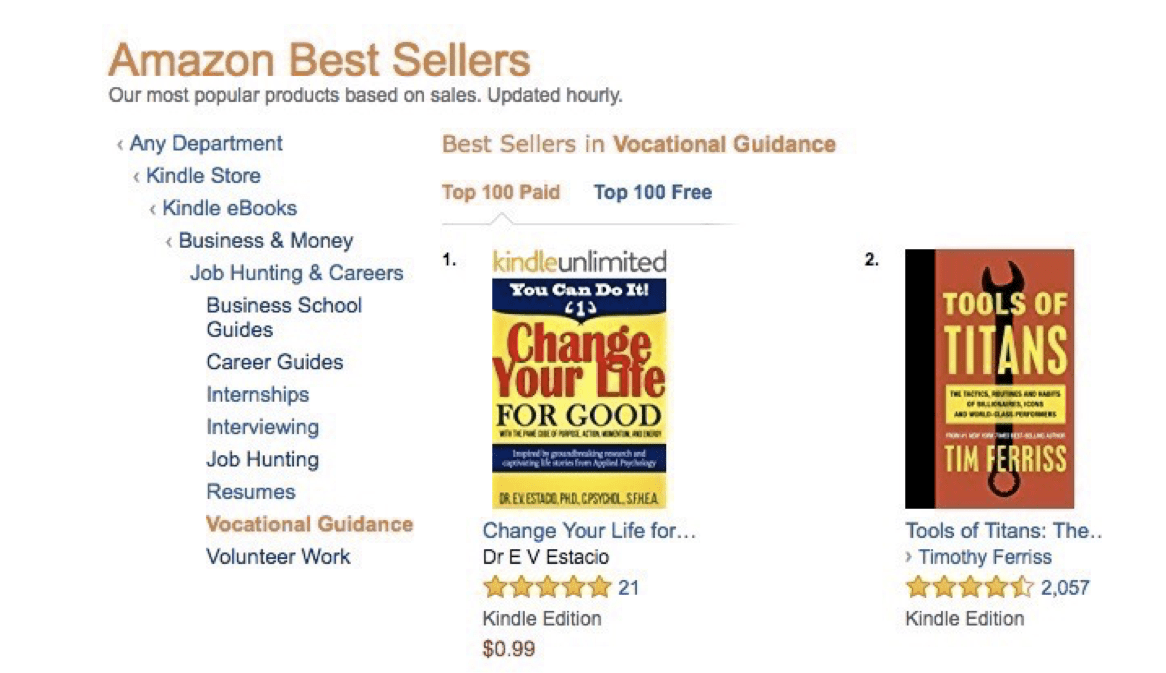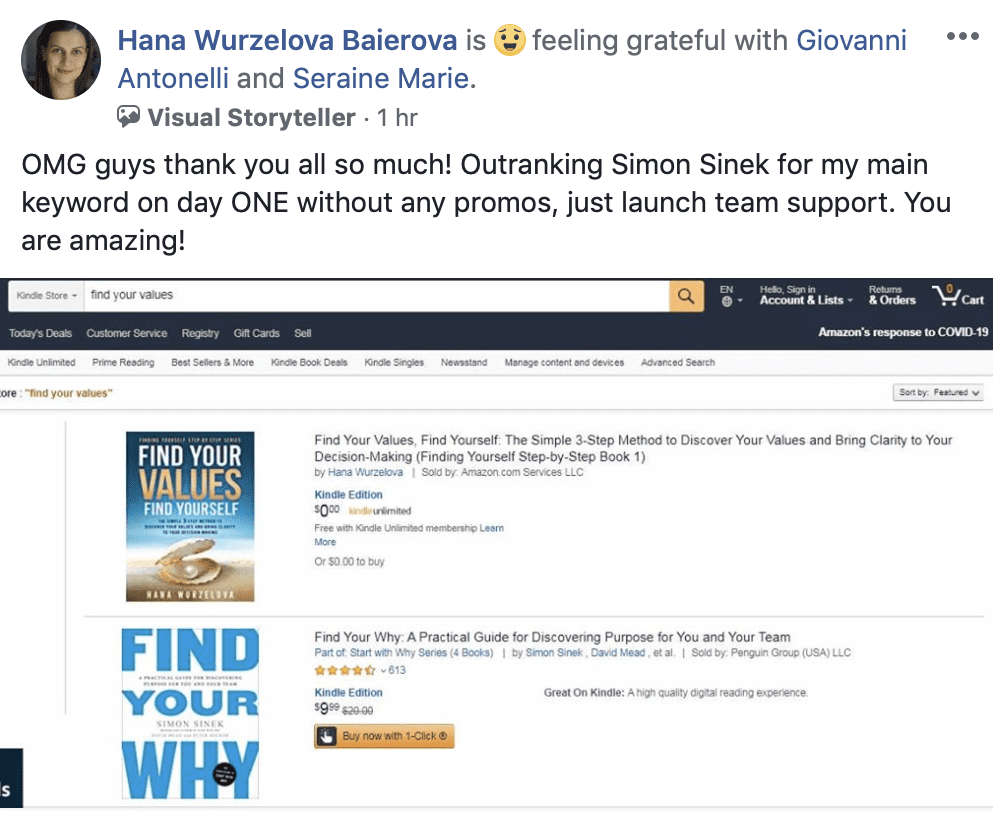 Or bringing in paychecks like these:
They were complete newbies with no following and no marketing experience and achieved their success ethically, by the rules, and fully compliant with Amazon's TOS!
I'm not sharing this to brag
– but to show you that I walk the talk and practice what I teach and you obviously want to know whose advice your are listening to.
So…
Ready to hear more…?
Then let's rock it!

First, let's clarify a few things:
When we say "#1 Bestseller", we are not talking about bestsellers in the entire Amazon store or even the entire Kindle store, but instead "Bestsellers" in the various categories and sub categories!
Hmmm…
You might have heard of the New York Times Bestseller list?
And, guess what…there, too, bestsellers are listed in genres and sub-genres, just like music charts are sorted by style – Rock, Pop, Country, Classical….and further sub genres.
The difference is that there are a LOT more categories on Amazon and therefore, a lot more chances to be a bestseller in one of them.

In fact, if you follow the strategies in this guide – and that includes ALL of them, especially, the first part, topic research – it will be very hard for you not to have a bestseller!
That's right!
Take that in for a moment…
And look at this beautiful picture…  a few pink books outranking Hal Elrod and Michael Gerber in the Business Author Charts:also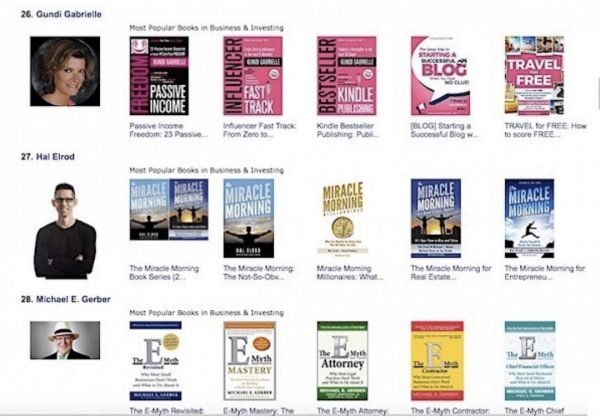 .
Now imagine your book there….
Good feeling?
Hold that image as you read this guide and for the next 30 days as you are writing your first bestseller.
BUT…
You might say.
You probably have SO many BUTs why this can't possibly work for you:
You are not a writer
You don't know anything about marketing
You don't have a list of ardent followers
You don't know what to write about
You are not tech savvy
It just won't work
You need a publisher
You need luck
Anything else….?
Well…
Just read on and you'll see them all dispelled one by one!
Many first-time authors with no following and marketing experience have followed this system and succeeded – and so can you!
Are you ready?
Ready to see your book at #1, ahead of big names like "Lonely Planet" and "Eat, Pray, Love"?
Then here's some more AWEsomeness for you… 🙂
Being able to call yourself a "Bestselling Author" comes with additional benefits that will affect your entire business and online presence:
👉 The Prestige of being a Bestselling Author (ranked higher in public opinion than a PhD according to surveys!).
👉You establish yourself as an Authority in your field.
👉It will be great (free) PR for whatever business or service you are offering.
👉Kindle Publishing is a great list builder and one of the easiest and fastest ways to build an online following for your blog, social media and/or your business.
Amazon actually pays you (in royalties) to get all those benefits while creating passive income!
In short – there is really no reason for you not to write a book and take on this new adventure!
So… if you are ready…
Lets begin!
The first important step with any successful strategy is mapping out:
AN ACTION PLAN
Without a plan you don't know where you are going – and you certainly don't know how to get there.
The following is an overview of all the tasks you need to complete over the next 4 weeks. Adjust the time frame as needed – 60 or 90 days instead of 30 –  depending on how much time you can devote each day.
It's better to prepare well than rushing through.
At a minimum, you should have 2-3 hours every day to make significant progress.
More is better, obviously.
Now, lets have a look:
WEEK 1 – Preparation & Research
👉 Research Profitable Book Topics
👉 Content Research for your Book
👉 Write an Outline
WEEK 2

 

– Write
👉 Write your Book
👉 Build a Launch Team
👉 Find an Editor (at the very least, a proofreader)
WEEK 3 – Fine Tune
👉 Craft an AWEsome Title & Subtitle
👉 Order a GREAT Cover
👉 Create an Author Website + Lead Magnet (click on the link to learn how to do it in 30 minutes) => optional
👉 Plan Launch Week Promos
WEEK 4 – Prelaunch
👉 Final Edits & Proofreading
👉 Upload your Book to Amazon
👉 Book Promos + Invite Reviews
That's it!  
Whoa…..wait!
You say.
Just 1 week for writing an entire book…?!!
😵 That's CRAZY! – I'm so busy. I will need at least several months!
Ok… lets clear something up.
When it comes to eBooks:
"Short is the new Long"
That means, readers prefer shorter books when reading online or on digital devices.
Short books do a LOT better on Kindle than full length 60-80K word books.
Fiction writers find that their short novellas are often much more popular than big long novels though there certainly is a place for those as well.
12K-24K is a good range on Kindle, especially for non fiction. More feels overwhelming to many readers, because the way we read on digital devices is different from holding a book in your hand.
It is more effective to split a complex topic – or novel – into a series of smaller books than overwhelming your readers with one, big chunk.
It's also much smarter from a marketing perspective!
Authors who generate 5-6 figures from publishing, usually create a series of books covering different aspects of one larger topic. 
Quite often, they actually have several series in different genres (sometimes even under different pen names).
Not to get carried away, but to give you a larger perspective….
Writing 12,000 words in 1 week is not difficult – even if you are not an experienced writer. That's about 2000 words a day – a good sized blog post.
If you want to give yourself more room for your first book, by all means, plan in two weeks or even four, but not more than one month.
It's important to have a deadline to keep yourself focused.
…..as I always say.
Certainly helped me finish all my books, rather than binging on Netflix… 🙂 (I'm a movie buff!)
Now, take a moment and write out your Action plan. No worries, you can always adjust along the way, but you need a clear plan and make a firm commitment before your start.
Once you are done – sign and date your Action plan and hang it on the wall above your desk.
Now, you are ready to go!
What it takes to publish a Bestseller on Amazon:
The most important part of this entire strategy is research: finding a book topic that has proven to sell well.
You need two ingredients:
A large interested readership = a topic that people actually want to read about
Medium to low competition = as an example: you wouldn't be able to compete with 10 New York Times Bestselling authors in the same category
How to research?
Let's start with the Kindle bestseller lists and select "Kindle eBooks". 
Next, select a genre (= category) that might interest you. If you already have an idea for a book topic, this method can help you validate or fine tune.
As a new author, you will usually not rank in the overall categories yet (Business, Health, Self-Help), but you can rank in the sub categories.
Go through a few and find out what themes are trending. Focus mostly on the top 20 books and see if certain topics show up at least 3 times.
If yes, write them down and continue. As a new author you don't want to reinvent the wheel, but rather follow trends that have already proven to work, => that are making other authors money.
.
Build your Author Website
Once you have chosen your title and while your editor and cover designer are at work, you can use the time to set up your author website.
Very easy to do these days  and no tech skills required!
This blog post will show you – step-by-step – how to set up an awesome looking website in less than a hour.
(there is even a cat on a motor bike…😎)
Create a Promo Schedule
The final item to complete in week 3, is  your promo schedule for launch week.
You won't book the promos just yet, but you want to plan out your schedule and see what each requires.
What are promos and why do you need them?
Kindle Promo services are basically large mailing lists of hungry readers who love to get daily deals – either free or 99c.
Every day, the promo owners send out an email featuring books priced at 0 or 99c. So you are basically buying an ad in a highly curated newsletter.
There are hundreds of promo services to choose from, but only very few really produce any results.
Here is my premium list, the only ones I use, so you don't have to waste time and money on all the dooseys: 
Gundi's Recommended List of Best Book Promo Services
To be clear though:
No promo in the world will help you if:
your cover is terrible
your title is not clear & enticing
your topic not popular and
no reviews.
This is not a magic bullet, you have to put in the work and not skip the above steps.
If you do…
Those promos can quickly an easily catapult you to #1 within just a few days of publishing.
So, please put time and effort into topic, cover and title – those 3 are crucially important for your success!
WEEK 4
Let's get ready to launch your book to AWEsomeness!!
And #1, of course 👍 
Selecting Categories
One of the most important tasks to complete here is Category research.
When you upload your book to KDP/Amazon, you can choose 10 categories.
To ensure #1 ranking in at least one of them, you need find sub categories in your niche that are not too competitive, but still have a decent search volume to help push your book during the first month.
This short video shows you how, using a nifty, little Chrome extension called:
It makes the whole process super easy and fast – (though it can be done manually, too, if you want to spend a few hours):
Launch Week – Show time!!
During Launch week, you have only two tasks:
1) Promote, promote, promote!
2) Watch your Bestseller rank every few hours and see yourself rise to the top!
That's it!
The hard work is behind you and while you should spend every free minute promoting, this part should be really fun.
Don't forget to enjoy it… 🤗
It's an awesome feeling when you realize that you have become – and can now call yourself – a:
#1  Bestselling Author
Like SassyZenGirl alumni:
👉Cara Bramlett – she actually did it 3 times already! and her Servant Leadership book is highly regarded and popular in the medical community:
👉Kris Ward, CEO of a successful marketing company in Toronto: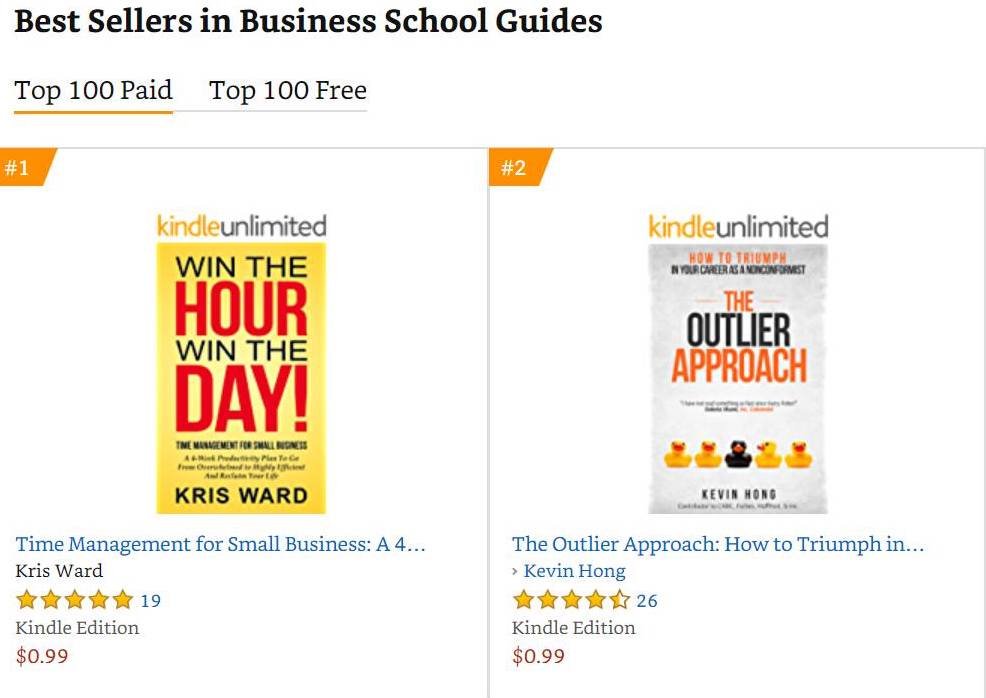 👉Agile Entrepreneur & Podcaster Ramesh Dontha:
College Professor, Podcaster & Humanitarian Christine Reinhardt:
On the English & Spanish Charts no less:
👊
The Coveted Bestseller Badge
Getting the little orange badge will be the ultimate satisfaction and it can sometimes take a few days.
You won't get it just for being #1 for a day. You have to show continued success for at least a few days and then chances are good that it will show. Definitely share a screenshot with us in the group – we'll cheer you on!
And, don't forget to celebrate!!
Becoming a "Bestselling Author" is an awesome – epic – moment in your life!
Really take time to enjoy it!
What's next…?
👉 #1 – Be sure to download your FREE copy of the complete guide on Amazon (US Store):
👉#2 – Check out SassyZenGirl's Favorite Self Publishing Tools HERE
👉#3 – Take things further and learn how to turn Bestseller Publishing into a 6 Figure Passive Income Machine with this FREE Workshop:
The Proven Step-by-Step System To Grow A 6 Figure Business from Bestseller Publishing & Massively Explode Your Existing Business As A #1 Bestselling Author!
…Even if you are not a Writer – have no Following yet and NO CLUE about Marketing!
Register here:
More Books from SassyZenGirl:
Disclosure: This page may contain affiliate links, meaning we receive a small commission if you decide to make a purchase through our links, but this is at no additional cost to you. Quite often, we negotiated a special discount only available to Friends of SassyZenGirl, so win-win for everybody 😎.  We use all these tools ourselves and stand fully behind them. Please read our disclosure for more info.