Ready to Publish your First Bestseller?
YOU = #1 Bestselling Author
What if one of Amazon's Top Indie Authors would help you publish your first book?
.
Award Winning Top 100 Business Author Gundi Gabrielle has outranked every famous business author in the United States – from Brene Brown to Robert Kiyosaki, Rachel Hollis, Marie Kondo, Brian Tracy, Simon Sinek, Russell Brunson and many more – all of whom had the backing and marketing budget of major publishing houses:
Thousands of successful students around the world with successful Bestseller Launches - in many different genres!
Gundi has taught thousands of budding authors around the world how to publish their very first book to Bestseller status – often outranking New York Times Bestsellers & world famous authors like Hal Elrod (Miracle Morning), Tim Ferriss or Simon Sinek in the process:
Gold Medal Winner Ramesh Dontha:
.
Ramesh Dontha followed Gundi's training to publish his smash hit #1 Bestseller "The 60 Minute Startup" winning him the GOLD MEDAL at "Readers' Favorite's Award"
No audience and NO CLUE about marketing?
Not a problem!
Self-Publishing is one of the fastest ways to grow an audience from scratch – while attracting potential clients and customers – completely on autopilot!
IF…
You know the secrets of leveraging platforms like Amazon to your advantage. Basically have Amazon sell your books for you.
Rather than constant hustling and paying thousands of dollars in ads (let the publishing houses do that 🙂
Learn how to position your message for maximum exposure, a unique perspective that stands out in the market place.
As well as irresistable branding that attracts the right readers and customers and let's you stand out in the crowded book world.
And then there is passive income…
Consulting PLUS Course for best Results!
.
Consulting spots with Gundi are extremely limited and go frequently to waiting list.
If you are new to publishing, the PLATINUM Package is recommended, which includes Gundi's flagship PREMIUM Publishing Course "Bestseller Empire" – the most in-depth online course currently available for self-publishing (a $1997 Value).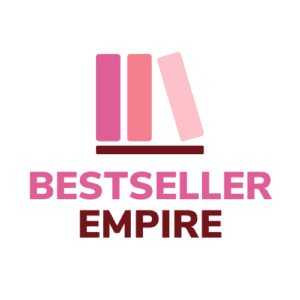 Marketing Agency Owner Kris Ward:

College Professor Christine Reidhead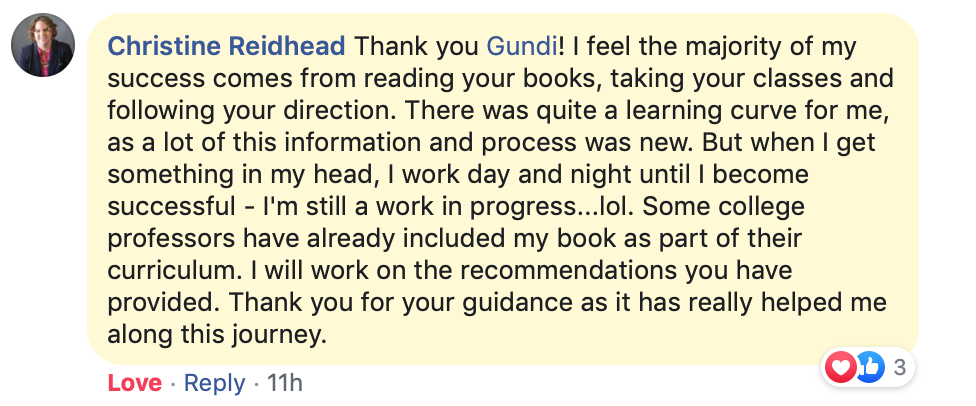 This self-study course will guide you in 12 in-depth Modules how to publish a Bestseller in as little as 90 Days(!).
Once you have the basics, we can talk strategy in the sessions, fine tune your launch strategy specific to your genre, topic and branding, as well as, help with marketable titles, covers and positioning your book for maximum success. 
To reserve your spot now, click below (sessions can be booked at a mutually agreeable time for the next year). All sales are final:
PREMIUM COURSE
Premium Course "Bestseller Empire" (Self-Study/Video)

12 in-depth Modules guiding you through the Self-Publishing process from Zero to #1 Amazon Bestseller!

7 Awesome Bonus Modules, including:

How To Land Influencer Endorsements Like A PRO!!

100K Passive Income Book to Course Funnel

Bonus Course: Empower Your Brand

Gundi's 100K Publishing Hacks
3 PAK CONSULTING
3 x 60 min. Consulting Sessions with Gundi

Only in combination with the course

Or for published authors who are already familiar with the publishing process and are looking to improve their sales and following.
PLATINUM
3 x 60 min. Consulting Sessions with Gundi

Premium Course "Bestseller Empire" (Self-Study/Video) - Value $1997
Prefer a DONE-FOR YOU Option?