*********
It was my first visit to Ubud, the lovely artist town in the Bali heartland, and I knew it would be beautiful.
I did, however, not expect to be so charmed by the lovely accommodation I found along the way: Suara Air Luxury Villas in the picturesque village of Benjar Melayang.
Blissfully untouched by modern tourism and yet only 10 min. from Ubud centre, this was the perfect location to enjoy some quiet time amidst lush greens and exquisite beauty.
Whispers of Water….
"Suara Air" means "whispers of water" and refers to the two small rivers surrounding the property.
It is peaceful and quiet here – utmost solitude – in fact, after entering the main gate…..
….you continue along a small pathway for a while….
…across a bridge….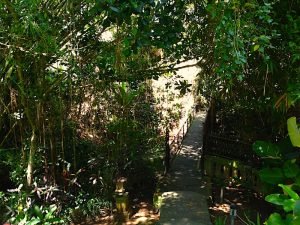 ….over a waterfall….
…along lush green rain forest….
…until you reach the second entrance sign, this time to the main villa: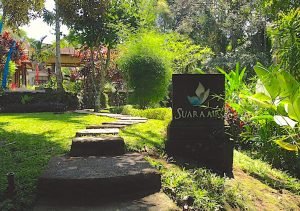 Upon entering, you are greeted with this amazing view…..
A gorgeous pool, facing lush green jungle, anchored by the main building housing 3 luxury suites.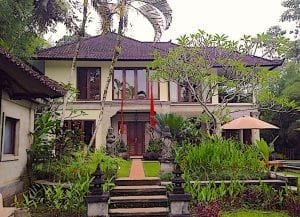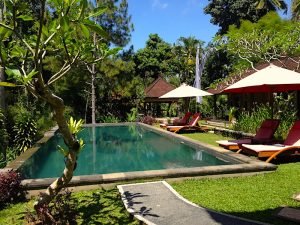 And it gets better:
3 pool villas, each with their own manicured garden surrounded by a hedge for utmost privacy.
This is the walkway leading to the villas:
A Pool Villa in the Rice Fields…
And this is the beautiful villa I stayed in:
Immaculate beauty and my own private pool.
The villas feature a living room with couch, flat screen TV and an exit onto a private terrace….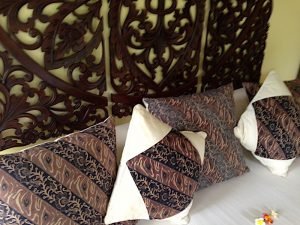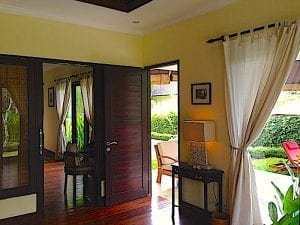 …followed by a gorgeous bedroom with bathtub, shower and 2 sinks, marvelously integrated into the design.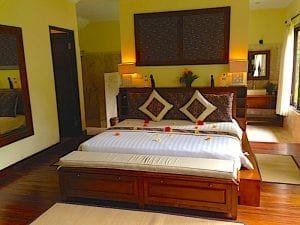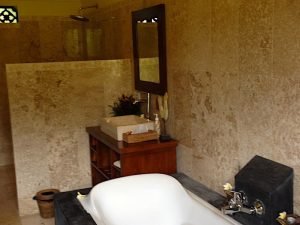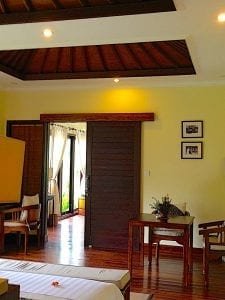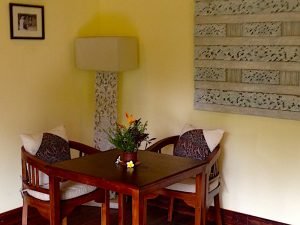 Balinese styles blended perfectly with modern amenities….
Here is my video of the experience:
The private terrace where meals can also be served: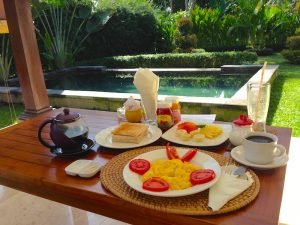 Breakfast is included in the room rate and prepared by the staff. There is no restaurant on site, but food can be ordered from a local restaurant and delivered to your villa. There is a wide selection of different food options and the quality is excellent.
A Walk in the Ricefields
Suara Air offers a number of activities and day trips as well as a free shuttle into Ubud and my second day started with a morning walk through the rice fields led by the manager of the property – Komang, whose family also lives in the local village.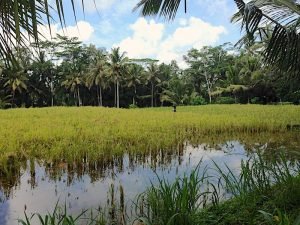 It was beautiful!
On our way back we passed through the village and Komang invited me into his house to meet his daughters and mother and see how a traditional Balinese family lives.
A very authentic, beautiful experience – so very different from the usual tourist attractions in the crowded South.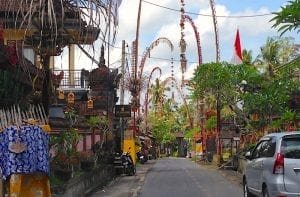 In the afternoon, I had the free shuttle take me into Ubud. A lovely little town filled with picturesque side streets, shops and art galleries – and surprisingly pleasant despite the large number of tourists there.
Warm and Friendly Staff
The Balinese staff at Suara Air are wonderful and go out of their way to make your stay as pleasant as possible. Everything is lovingly upkept and prepared, and the guest's happiness is the utmost priority.
I'm always touched by how warm and welcoming Balinese people are, and Suara Air was another beautiful example of that characteristic.
Conclusion
I'm excited I found this beautiful little place!
If Ubud is one of your choice destinations and you prefer not to be around the tourist crowds, Suara Air will be a perfect choice for you! Close enough to Ubud to easily go in anytime you want to, but far enough away to enjoy the beautiful country side – and some real Balinese lifestyle.
SassyZenGirl Score: 9.6
Location: 10/10
Uniqueness: 10/10
Accommodation: Pool Villa 10/10
Pool: 10/10
Restaurant: 10/10
Staff: 9/10
Activities: 10/10
Wifi Speed: 7/10
Zen Factor: 10/10
TOTAL SCORE: 9.5/10
More Luxury Resorts in Bali:
West Bali National Park – The Menjangan
Lovina Beach – Puri Bagus Lovina