*********
A Desert Safari is one of the "must do" adventures for any traveller to Dubai, the magnificent metropolis that rose out of the desert during a phenomenal growth period of just 15 years.
I love the desert and visiting the legendary Sand Dunes of Sossusvlei in the Namib Desert of Namibia is among the most spectacular travel experiences of my life. That experience was a about stillness and solitude. Sossusvlei is a National Park with no adventure activity, very unlike the desert parks around Dubai which are frequently used for Dune rides in 4-wheel drives and buggies – or sand boarding.
Both were fantastic experiences, each in their own way – and your visit to Dubai will not be complete without a Desert Safari, preferably at Sunset.
This video shows the highlights:
A Drive through the Desert
The evening started with a lovely drive through the desert, encountering a few gazelles and oryx along the way, everything painted in beautiful sunset colors that are so unique in the desert.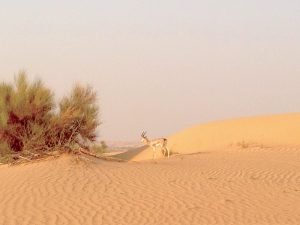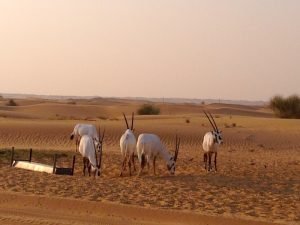 We stopped for a falcon show with a falcon named "Muffin". Not sure why anyone would name a falcon "muffin"….;-) but her hunting skills and flight speed were impressive and it was a delight to see this beautiful animal in action (see video).
A Dune Ride in the Arabian Desert
Then the dune ride began – a fantastic adventure, somewhat like a rollercoaster and nothing for weak stomachs….

This one got stuck – or…..an extra "photo opportunity" as we were told….;-)

Our photo stop without getting stuck….;-)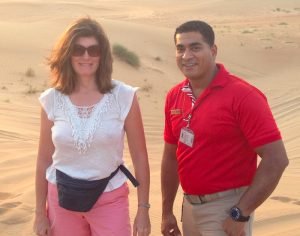 A Desert Sunset
Meanwhile, the sun was setting, providing ever more spectacular vistas and colors.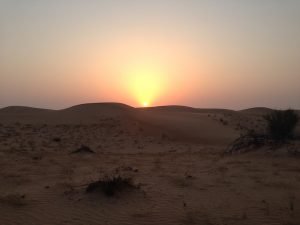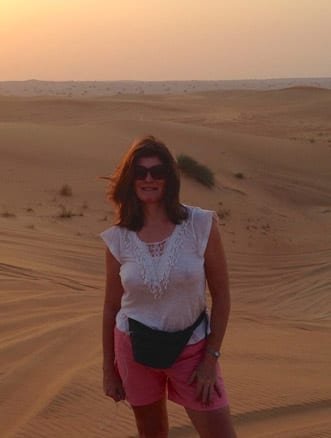 Sunset Dinner at a Bedouin Camp
Finally, it was time to drive over to a Bedouin Camp for a delicious Arabian buffet dinner – and one of the rare places in Dubai where alcohol was served (beer & wine).
There was also the the option for a camel ride….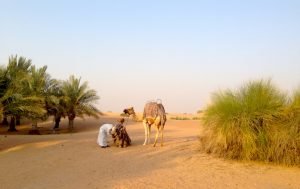 Upon entering the camp…
we were greeted with Arabian coffee and dates…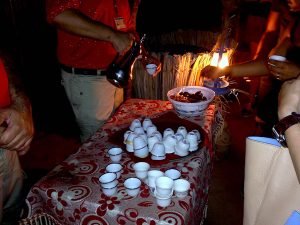 and had then time to explore the beautiful camp while a BBQ dinner was being prepared.
Arabian Adventures, a subsidiary of Emirate Airlines, was the tour company who organized this trip and they certainly lived up to their splendid reputation!
While waiting for dinner to be prepared, the camp offered shisha pipes, henna body painting and, yes, dressing up in Arab outfits…;-)
Dinner was excellent and included 3 courses, followed by a Bellydance show.
The evening concluded with all lights being turned off for 5 mintues to watch the stars which was a nice touch….. It was a star-less night though, but with a beautiful full moon instead.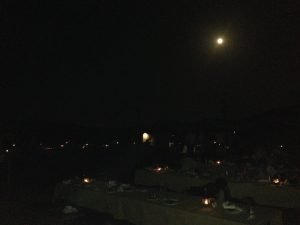 Then it was time to drive back to Dubai through the nightly desert.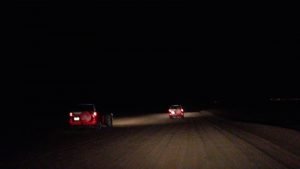 Definitely, an amazing experience and very well organized by Arabian Adventures. Though there were quite a few cars on this trip, it never felt crowded and the timing was excellent – especially given the many activities that were included within a 6 hour time span.
My favourite parts were the dune ride and the magnificent sunset that always seems to be more intense and beautiful in the desert.
For more information or to book a trip with Arabian Adventures, please visit their website at www.Arabian-Adventures.com – this is the direct link to their Sundowner Dune Desert Safari
***********************************
More Fun Activities in Dubai:
DUBAI DAY TRIPS: UAE EAST COAST – another surprising find! – and another wonderful tour with Arabian Adventures. Stunning mountain scenery along the way, culminating in magnificent vistas of the Indian Ocean/Gulf of Oman. Great to get a more complete picture of this fascinating region….
DUBAI YACHT CRUISE – one of the most fun activities of my entire stay. Do not leave without doing a yacht cruise around Palm Jumeirah Island and the Marina Canal. I was fabulous!
DHOW DINNER CRUISE – the fantastic light show of the Marina at night from the comfort of a historic Dhow Boat
DUBAI DAY TRIPS: ABU DHABI – the other major city in the UAE, with a very different vibe….