*********
Among Dubai Day Trips, Abu Dhabi is one of the most popular options. While the city is much smaller and doesn't have the liveliness and extravagance of Dubai, it still has much too offer.
Abu Dhabi Emirate is by far the largest and richest in the union. Unlike Dubai, whose oil reserves are running out, Abu Dhabi is set for at least another hundred years and is blessed with phenomenal wealth.
The city of Abu Dhabi is an island and much smaller and quieter in scope. I found that Dubaians are generally not that fond of Abu Dhabi and much prefer the liveliness and cool, modern vibe of Dubai, but Abu Dhabi can offer a nice break away and is certainly an important part of this region.
Here is a video of the whole trip:
A Day Trip to Abu Dhabi
The drive from Dubai takes about 1  1/2 hours and follows Sheikh Zayed Road.
Sheikh Zayed bin Sultan Al Nahyan who passed in 2004, is lovingly referred to as "Father of a Nation" by everyone, even the expats. He was the ruler of Abu Dhabi and the leader who had the vision of uniting the many small Emirates of the region, most notably Dubai and Abu Dhabi. Membership was also offered to Qatar and Bahrain who refused, however.
The current ruler of Abu Dhabi is his son Sheikh Khalifa bin Zayed Al Nahyan. Burj Khalifa in Dubai, the tallest building in the world, was named after him after Abu Dhabi had to bail out Dubai during the financial world crisis of 2008.
Abu Dhabi and Dubai are by far the wealthiest Emirates and take excellent care of their citizens, providing free health care, housing and education to every one of their people.
The Green Emirate
Sheikh Khalifa of Abu Dhabi imported large numbers of trees and developed an extensive irrigation system to keep them all alive and green under the brutal desert sun. Large desalination plants can be found everywhere and even the bottled drinking water comes from the sea.
Drinking water is free everywhere in Abu Dhabi – not so Dubai.
It is impressive how green and luscious Abu Dhabi has become, even along Sheikh Zayed Road, the major highway between the 2 cities/emirates – not exactly desert scenery…..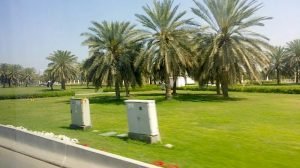 Of course, both cities are heavily competing with each other, but Abu Dhabi never needed tourism or any other means of income to survive and so always kept a quieter atmosphere and vibe.
Abu Dhabi Grand Mosque
The most spectacular vision in Abu Dhabi is the Grand Mosque, named after Sheikh Zayed, and the 2nd largest after Meccah. That alone is worth a visit!
I let the pictures speak for themselves: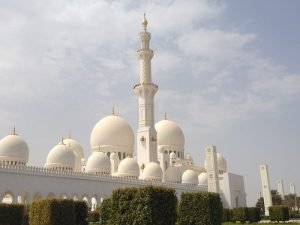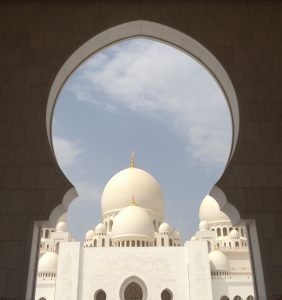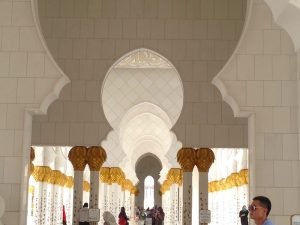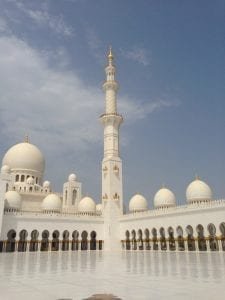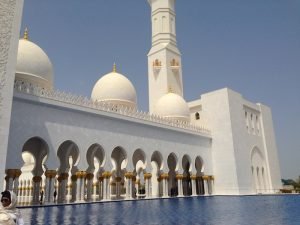 Abu Dhabi Skyline
After bathing in such magnificence for over an hour, we were ready to explore downtown Abu Dhabi with its own very impressive set of towers.
First the skyline with a Dhow Boat in the front.
Next, Atlantis Towers Abu Dhabi being built near the Marina:
Blue Sky Tower
and, of course, Etihad Towers of recent Fast & Furious 7 fame.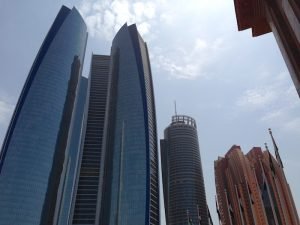 The Super Hotel of "Emirates Palace"
These 3 buildings are right across from the famous 7-Star Emirates Palace Hotel.
and its famous "Golden Cappuccino":
Handmade Golden Wall Carpets
Other highlights of this Dubai Day Trip included a visit to a Heritage Market featuring beautiful Golden Wall Carpets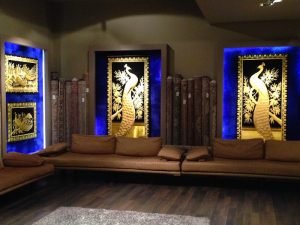 and another amazing view of Etihad Towers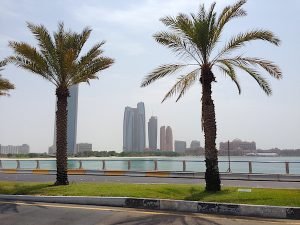 A 4-Star Lunch at a Historic Hotel
Then it was time for a late lunch. Once again, my tour company was Dubai Relax Tours and they included a 4-star buffet lunch with Arabian specialties at the "historic" Intercontinental Hotel.
You heard right….;-)
The Intercontinental used to be the most famous 5-star hotel in Abu Dhabi until Emirates Palace took over – and in 1971, the union of the UAE was signed here.
A nice touch and once again, more of a luxury feeling – to my knowledge the only tour outfit to include such an exquisite lunch.
The most delicious Dates in the World
Fully stuffed, we continued to a date market featuring some of the most exquisite (and expensive) dates on earth. The best dates apparently come from neighboring Saudi Arabia.
They were truly delicious and absolutely the best dates I ever tasted!
Our final stop was Ferrari World, a theme park with some extraordinary roller coasters and a Ferrari Showroom. Some of the guests got off here, I continued home to Dubai.
It was a lovely and interesting day and definitely worth a day trip from Dubai!
Having known Abu Dhabi mostly from the movie Sex and the City (yes, I admit….;-) – I now have a very different view of this city and the culture here. Not at all like the Hollywood version, of course – as entertaining as it was.
My favorite city in the region will still remain Dubai, but a journey to this part of the world would not be complete without also visiting Abu Dhabi.
For more information or to book a trip with Dubai Relax, please visit their website at www.DubaiRelaxTours.com – this is the direct link to their Day Trip to Abu Dhabi
*********************************
More Fun Activities in Dubai:
DUBAI YACHT CRUISE – one of the most fun activities of my entire stay! Do not leave without doing a yacht cruise around Palm Jumeirah Island and the Marina Canal. I was fabulous! Also organized by Relax Dubai Tours – as was the following tour:
DHOW DINNER CRUISE – the fantastic light show of the Marina at night from the comfort of a historic Dhow Boat – the nightly counterpart to the magnificent Yacht Cruise!
DESERT SAFARI – unforgettable dune ride in a 4-wheel drive, falcon show, spectacular sunset and Bedouin Dinner – another must-do experience in Dubai
DUBAI DAY TRIPS: UAE EAST COAST – another surprising find! – Stunning mountain scenery along the way, culminating in magnificent vistas of the Indian Ocean/Gulf of Oman. Great to get a more complete picture of this fascinating region….