*********
What do Donna Karan, Kate Moss and Roman Polanski have in common?
well….they all stayed at Tugu Hotel Bali, one of the premier luxury hotels on the island – and often listed among the 100 Most Beautiful Hotels in the World.
I recently had the opportunity to stay at this beautiful gem and what an amazing experience it was!
Located on trendy Canggu Beach, Tugu Hotel Bali is undoubtedly one of the most unusual hotels I have ever visited.
Tugu is part of Tugu Hotels & Exotic Spas (Tugu = "monument"), a collection of small, privately owned and designed Luxury Art Hotels born out of one man's love and passion for Indonesia's romantic history.
Anhar Setjadibrata, a physician-turned lawyer became interested in Indonesian art and history in his early 20s and soon became an avid collector.
Today, he is the owner of the biggest collection of fine Indonesian art and cultural antiquities in Indonesia and is sharing these beautiful treasures with the world through four boutique museum hotels that he also designed.
"The Art, Soul and Romance of Indonesia" – Tugu Hotels
Each hotel has a unique set up and Tugu Bali features a lovely collection of art-filled suites in historic village type buildings connected through picturesque paths and romantic water ways. I let the pictures speak for themselves: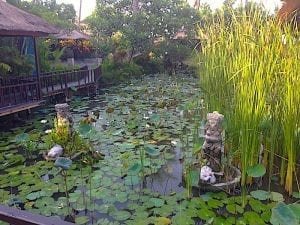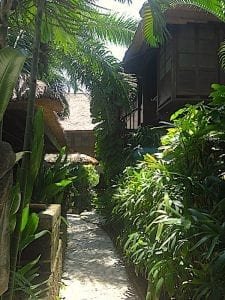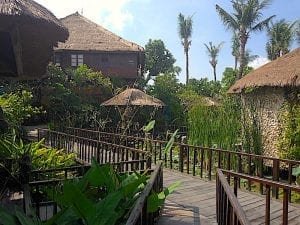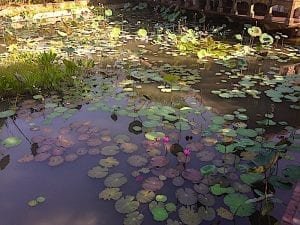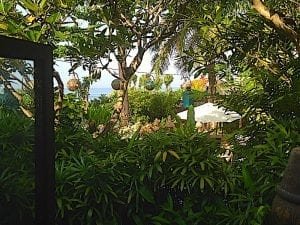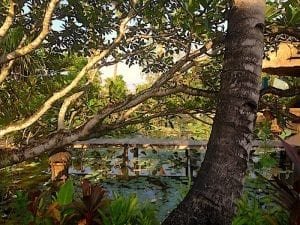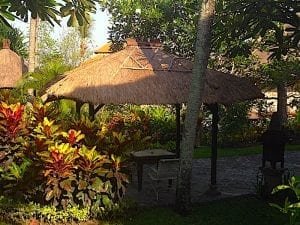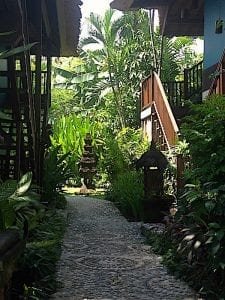 …and that is only part of Tugu Bali's unusual charme…..
How about an Ancient Temple for a Lobby?
The open Bale Agung Lobby featuring magnificent views of the Indian Ocean and surrounded by luscious tropical gardens was inspired by an ancient ceremonial house in central Bali.
Filled with numerous, precious antiques, the most impressive features are the 4.9 meter tall wooden Garuda carved from a 120 year old tree and several Boma Heads (giant mythological guardians) on top of soaring columns…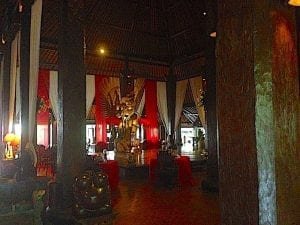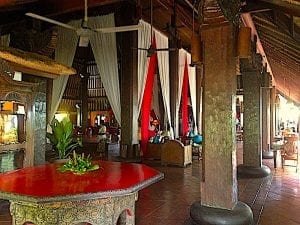 Another center piece is the Cupu Manik – a 16th century stone bowl used by ancient priests to sprinkle holy water onto the sick and suffering.
It was this particular piece that had started Setjadibrata's love affair with Indonesian antiques when he first saw it many years ago at this very beach in Canggu.
It was also the reason why he chose this location for Tugu Hotel Bali.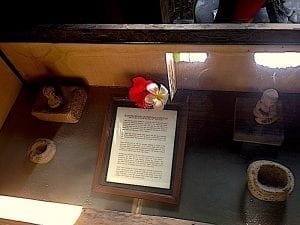 To further envelop guests in Indonesia's luscious and beautiful history, Tugu Bali once a week offers a Balinese Dinner with Dance Performance at its stunning lobby – allowing the Garuda to shine even more impressively.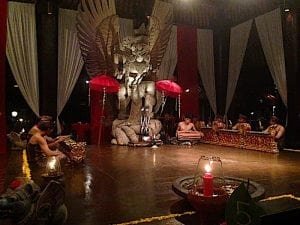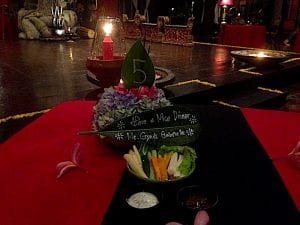 Dinner and breakfast are also served here and there is a small bar with a terrace – beautiful antiques everywhere.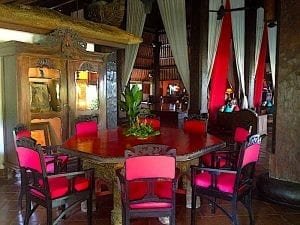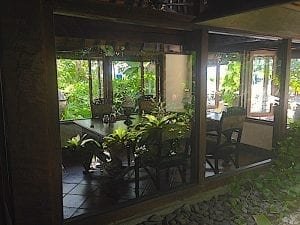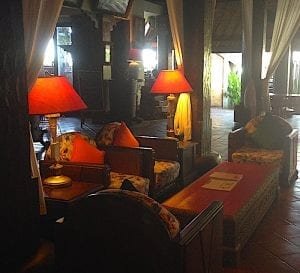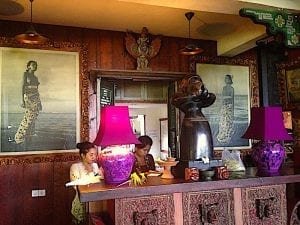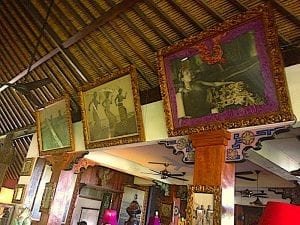 Afternoon High Tea with local specialties….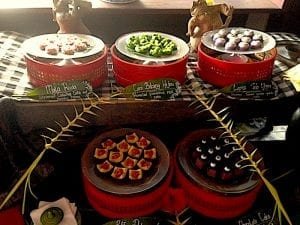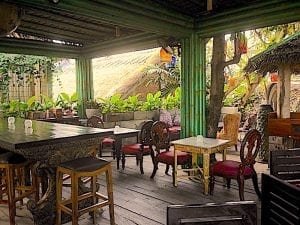 The Best Indonesian Restaurant in Bali
Tugu Hotels are famous for their exquisite cuisine featuring some of the best culinary delights the islands have to offer and sought after even by the President of Indonesia.
Aside from the lobby restaurant, two spectacular dining rooms offer a once in a lifetime experience:
Bale Puputan, a 19th century Balinese royal dining room of the kings, dedicated to Balinese heroes:
and Bale Sutra, a 300 year old temple, often referred to as "the most beautiful dining room in the country":
A gorgeous Spa
Of course, there is also a spa and it is equally gorgeous!
Magnificent Ocean Scenery
Behind the lobby lies a lovely pool:
From here, a little pathway and gate lead out to the ocean….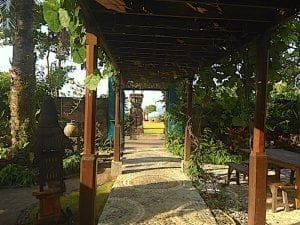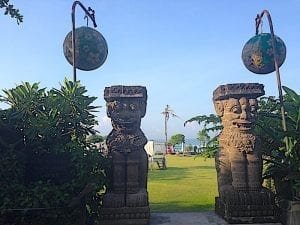 ….opening into this gorgeous view: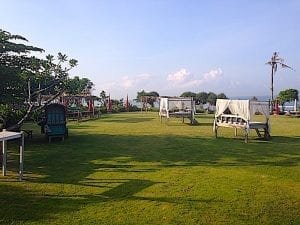 The above grounds are exclusive to hotel guests – the beach is, of course, public. Canggu is a well known surfer's paradise.
Sunsets are beautiful here:
and a romantic candlelight dinner can be arranged on one of these diwans: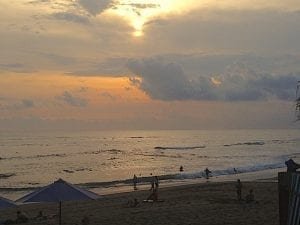 5 Exquisite Suites
At Tugu Hotel Bali, each suite is designed and furnished in a unique way. The 2 story buildings offer Dedari Suites with private pools on the ground level.
and Rejang Suites on the top floor. This is where I stayed and I absolutely loved it….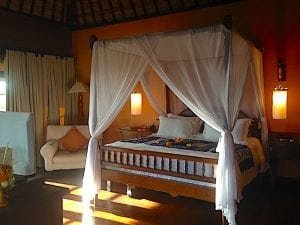 what an amazing bath tub….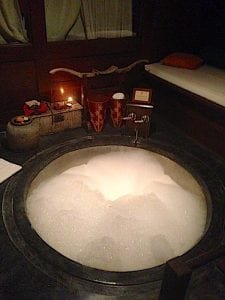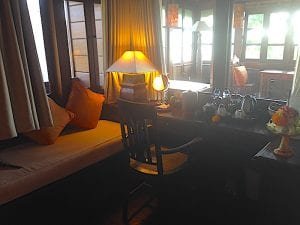 lovely welcome….
beautiful views…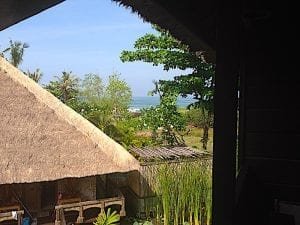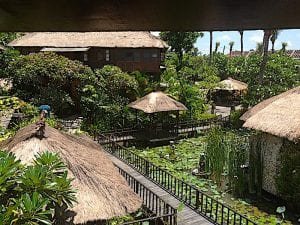 Breakfast can be had anywhere on the grounds – and I mean anywhere. Just tell the staff where you want it served and they'll bring it to you – all day long….
All suites come with free breakfast and afternoon tea, a free welcome massage and free airport transfer.
The 2 Signature Suites at Tugu Bali
And then there are Tugu Bali's two large signature suites:
Walter Spies Pavillion, named after the German poet and artist Walter Spies who made Java and Bali his home in the 1920s.
This suite is reminiscent of the art deco era of Java in the early 2oth century and incorporates several original Dutch colonial architectural elements, including entrance gate, stained-glass windows, and a most beautiful headboard made of the artist's original garden gate.
Walter Spies Pavillion features a beautiful private plunge pool, a private outdoor dining pavillion, a garden and the most unique outdoor sunken bath.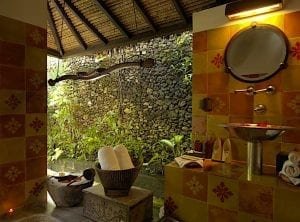 Puri Le Mayeur Villa – "the sexiest suite on the island" –  houses the honeymoon suite in a stand alone building with private water walkways.
Puri Le Mayeur spreads over 200sqm and 'floats' on its own 700 sqm lotus pond.
The villa was inspired by the love story between Adrien-Jean Le Mayeur de Merprès, a famous Belgian painter who moved to the island in 1932, and Ni Polok, a renowned Legong dancer.
Puri Le Mayeur features beautifully carved furniture by the artist as well as a private plunge pool, an open-air lotus pond dining pavillion, a beautiful outdoor bath, and a verandah to witness the sun set behind the breaking waves.
Absolutely magnificent!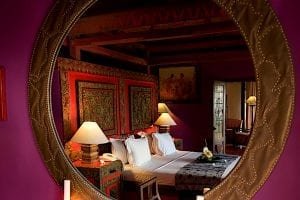 Be transported to the times of Ancient Kingdoms and 1000 year old Legends….
A stay at Tugu Hotel Bali will transport you to a magical, bygone era. A long forgotten world, a place in history, somewhere to the times of ancient kingdoms and thousand-year-old legends.
So very different from anything else in Bali – or anywhere in the world for that matter.
An absolutely amazing and unusual experience I could not recommend more highly!
For more info and to book a stay at Tugu Hotel Bali, please visit their website
For other properties/locations of Tugu Hotels in Indonesia, please visit www.TuguHotels.com
SassyZenGirl Score: 9.8
Location: 10/10
Uniqueness: 10/10
Suites: 10/10
Pool: 9/10
Restaurants: 10/10
Staff: 10/10
Wifi Speed: 9/10
Zen Factor: 10/10
TOTAL SCORE: 9.8/10
SassyZenGirl Score Point System: 10 points available – 10 being the best, 1 being the least
Other Luxury Resorts in Bali:
West Bali National Park – The Menjangan
Ubud – Suara Air Luxury Villas
Lovina Beach – Puri Bagus Lovina