*********
Nelson Mandela – "Madiba" as he is lovingly called – is still ever present in South Africa. No matter where you go, you will see pictures and landmarks dedicated to him, and people everywhere – of all races – have the greatest love and reverence for him.
A beautiful part of my journey was visiting some of the most significant landmarks relating to Mandela's life and I will share them in this article.
The Madiba Journey Mobile App
South African Tourism created a beautiful mobile app called "Madiba Journey" featuring 27 Mandela sites all over South Africa – one for each year of his imprisonment.
Users can read a description or hear audio narrative about how each site shaped Mandela's journey from a young boy growing up in Qunu under apartheid, to the leader of a free South Africa.
Visitor details for each landmark are included, such as operating hours, tours, ticket prices and contact information. The app lets users locate each site via their phone's mapping system, and get directions. It also provides a gallery of images, a "check in" feature, and the ability to share thoughts and pictures on social media.
The app is in English and costs $9.99. More info here.
Robben Island in Cape Town
The infamous Robben Island prison is probably the most famous site connected to Mandela (aside from Soweto). It is here that he spent the majority of his 27 years in prison.
I had seen a number of documentaries of the horrors that happened there and had always wanted to visit.
My farm sit in Wellington, the wine region North West of Cape Town made this possible and I took a day trip in early January 2016.
The tour was crowded, yes, but very well run and absolutely worth the trip, especially since the tour guides are former prisoners. Ours had actually served with Mandela.
It was a haunting, deeply moving experience that I describe in more detail in this article, but I would like to share a few images here to give you a first impression.
If you visit Cape Town I highly recommend this tour. It will leave a deep impression and I feel a visit to Cape Town is not complete without it. Though it is certainly a stark contrast to the otherwise breathtaking beauty everywhere.
Daily ferries to Robben Island depart from V & A Waterfront and you can find all information for booking, prices etc. here.
The ferry ride is beautiful, especially if you get on the little yachts.
Once you reach the island, you will either start with a bus trip around the island or with the main prison complex. Our group started with the latter.
Hearing a former prisoner tell what it was like and guide us through the complex was especially moving….
more on that in the above article – these are some of the main sites:
The courtyard…
Mandela's cell…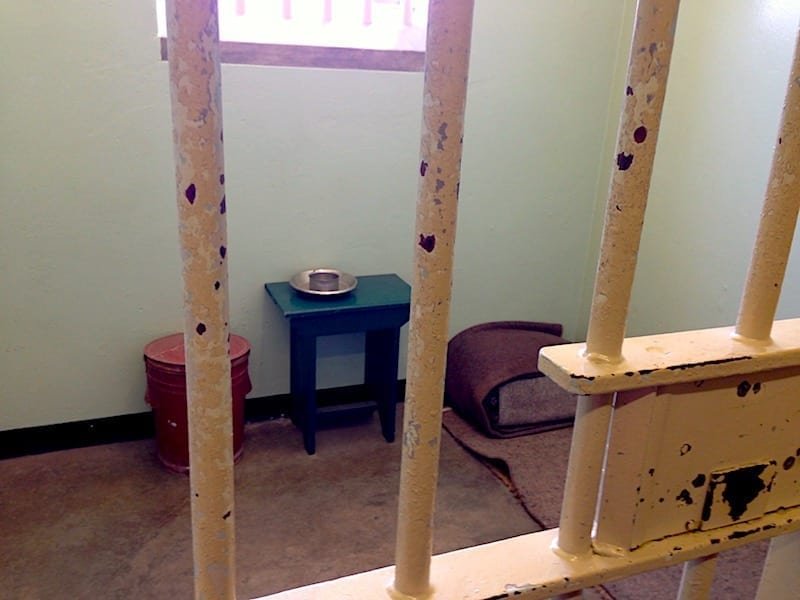 Letters with most of the text cut out (the cruelest of all tortures for most prisoners).
The bus will take you to the lime quarry where prisoners had to work for 12 hours 7 days a week in the scorching heat. No protection, gloves, shoes, or goggles. The lime stone fumes permanently harming Mandela's eyes.
On the left a little cave, the "University of Life" – where prisoners secretly shared whatever knowledge they had by writing it on the wall. Others would come in, read it, learn something new and thereby feed and keep alive their dying minds.
The bus also passes through the village where the prison guards lived with their families – church and school included.
the leper graveyard…
…and finally the ocean with beautiful views of Table Mountain – penguins and seals everywhere ("Robben" is the Dutch/German word for seal)
The Long Walk To Freedom
Mandela's final prison was in the lovely wine town of Paarl, right next to Wellington. The prison is still in use today, but it is possible to arrange a private tour. Just drive up to the front gate and ask, they will point you in the right direction.
It is right at this spot that Mandela, together with his wife Winnie, started his famous walk to freedom, leaving the prison walls behind forever on February 11, 1990.
In the beautiful spirit so typical for Mandela's later years, he would later say of this moment:
"As I walked out the door toward the gate that would lead to my freedom, I knew if I didn't leave my bitterness and hatred behind, I'd still be in prison."
Madiba casting his first Vote in Durban
Four years later, another monumental stepping stone in South Africa's history – the first free, all-inclusive elections.
Mandela cast his first vote at Ohlange High School in Inanda near Durban. The venue was chosen because it was a school started by the founding President of the African National Congress (ANC) John Langalibalele Dube, a friend and mentor of Mandela. His grave was nearby.
On that day, Mandela stood at Dube's grave and famously said:
"Mr President, I have come to report to you that South Africa is free today."
Nelson Mandela Capture Site – Midlands Meander North of Durban
Mandela had been on the run from the Apartheid government for 17 months, a feat that had earned him the name "Black Pimpernel". But his luck was about to run out when police waved down his car on August, 5, 1962 at this very spot.
At the wheel was Mandela, posing as a chauffeur, with fellow comrade Cecil Williams in the passenger seat.
The two men had just visited Chief Albert Luthuli, then leader of the African National Congress, to report back on Mandela's trip abroad, where he had received military training in Algeria and had been to London to drum up support for the liberation movement.
Although Mandela insisted he was simply a chauffeur named David Motsamayi, the police were on to him (some say with the help of the CIA), and he was promptly arrested, starting his 27 year imprisonment and eventual walk to freedom.
Until  recently, the Mandela Capture Site was just a small bricked area with a plaque. But on the 50th anniversary of this event in 2012, an impressive steel sculpture and visitor centre was unveiled to give full recognition to the significance of this spot.
Mandela's Home in Soweto – Johannesburg
While I didn't like Joburg much, I greatly enjoyed my visit to the Soweto Township where both Mandela and Bishop Tutu use to live – where it all started. Their houses were almost across from each other.
I highly recommend the Hop-on-hop-off Red Bus Tour in JoBurg (also a very safe way to explore the city – which sadly is always a concern in Joburg). They offer a 2 hour side tour through Soweto and its many historic sites.
Both bus lines connect at the Casino, and the Soweto tours are guided by Soweto residents who are really fun…;-)
If you are concerned about safety, don't – not while you are on the tour. There are many good and safe areas in Soweto and you will find a vibrant, energetic – and very welcoming atmosphere.
You can also hop-on and off as you would with the big bus and spend the whole day in Soweto. Buses come through every two hours.
This article only focuses on the Mandela sites, but there are many more stops documenting the brutal life under Apartheid and a number of tragic events that happened in Soweto.
This is the home Mandela used to live with his wife Winnie – now a museum: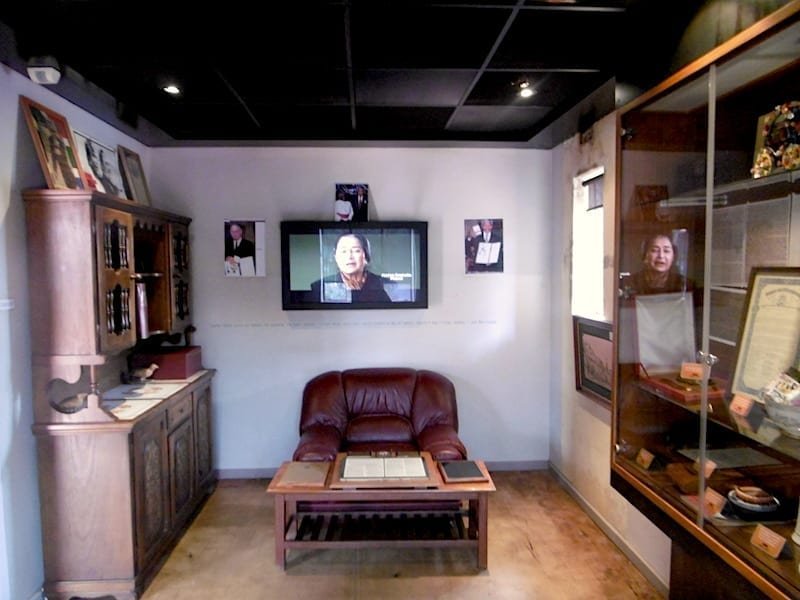 Across the street, the "Mandela Family Restaurant" – still run by his first wife Winnie.
and around the corner, Desmond Tutu's house:
There are more Mandela sites in downtown Joburg, of course, including his law office.
Another interesting site is the village where he was born – and buried – Qunu, near the town of Mthatha.
It was beautiful to follow in Madiba's footsteps during my 2 months in South Africa and the experience left me with a deeper, more profound understanding of this complicated country and its charismatic leader.
More Post on Southern Africa:
How I got lost in the African Bush….
Garden Route – Addo Elephant Park
NAMIBIA – Swakopmund, Belle of the Sea
BOTSWANA – One Man's Mission to Erase Poverty – One Pre-School at a Time
BOTSWANA – Maun and the Okavango Delta