This is a guest post by #1 Bestselling Author and Dream Clients on Autopilot alumni Dr. E V "Meng" Estacio. Meng recently recorded her own audiobook and shares some cool tips on how you can do the same at minimal expense. Take it away, Meng:
.
So, you are thinking of turning your Kindle book into an Audiobook?
If you already have a book that is available on Amazon (either Kindle or print version), you can easily turn this book into an Audiobook through the Audiobook Creation Exchange or ACX.
ACX is Amazon's platform for authors, narrators, agents, publishers and rights holders to connect and create audiobooks.  To register, go to https://www.acx.com/
On ACX, you can either:
Hire a narrator/producer to produce your audiobook (easier but not cheap!)
OR
Do it yourself (which I did)
If you choose to hire a pro, you can do auditions, pitch your book, and sort all these out through ACX.
However, I chose to do the narration and production myself for three reasons:
I want my listeners to hear my voice instead of a voice-over artist — I feel it is more personal.

 

I would like to have this connection with my listeners;

I enjoy learning new skills — narration and audiobook production seems fun;

I'm cost-cutting — I would rather spend my budget on something else (e.g., marketing and promotion).
And so, DIY it is!
Here are the steps I took to turn my book,
Change Your Life for Good, into an audiobook: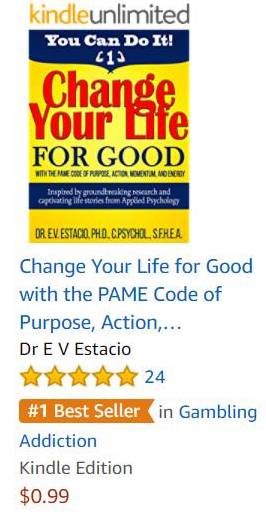 STEP 1: Preparation
Yes, preparation is key. 
Recording and producing an audiobook can be super time-consuming, so make sure you are ready.
1) Equipment and room
You need good quality equipment to record your book.  ACX standards are quite high, so make sure your recording is up to scratch. 
Some investment is required here, especially if you are planning to produce more audiobooks in the future. Many pros, including our very own SassyZenGirl, highly recommend the ATR 2100 which costs about $60.  Alternatives can  be found on this site.
If your budget is tight, be resourceful and see if you can borrow a quality microphone from someone you know who is into this kind of stuff. 
You also need to download Audacity to record your book on your desktop or laptop.  This is a free software that will let you record and edit audio files.
You also need to set-up your room in a way that is conducive to audio recording.  There are many resources available online to offer guidance on this.  As a starter, you can have a look at this video: 
2) Your book
I re-formatted my book before recording so it will be easier for me to read it aloud.
Since my book had images and weblinks that are difficult to narrate, I prepared shownotes as a companion document for my audiobook. 
During the recording, I simply asked my listeners to refer to my audiobook shownotes for details about these weblinks and images.
I also transferred my book onto my iPad so I can turn the pages while reading without making any background noise.
3) Yourself
I wanted to make sure that the recording will be enjoyable for me, so I made sure that I wouldn't be too tired when I do this.
I spaced my recording into four different sessions (1 chapter per session) so my voice will not get fatigued. 
I also prepared a jug of water to freshen my mouth and throat every few minutes.
Step 2: Recording
Before recording, I turned off all distractions and let everyone know that I was "On Air". I did not want any unwanted noise in the background.
Although there are a lot of resources online that will teach you how to narrate your audiobooks like a pro, they are basically just telling you to warm up your voice before starting, pronounce your words properly….. and try not to rush through the book.
Take your time and have your listeners in mind while recording.
This step, I found, was quite enjoyable. 
Because I was prepared, it went like a breeze.  I had fun doing it.
Step 3: Editing
Once you have completed your recording, the next step is editing — it's about getting rid of the unwanted ummms, errs, heaving breathing, and background noise.
If you are not a very technical person, I would suggest that you hire someone on Fiverr to do this for you.  The learning curve is quite steep and the process is very time-consuming.
For every hour of recording, it took me about 3-4 hours to edit it.  I only did it myself because I found the process fascinating and I loved the thrill of learning how to do it.
I used Audacity in this process. 
If you want to do it yourself, this video will be a VERY helpful beginner's guide:
It also includes basic tips on noise reduction, amplification, trimming, split clipping, etc.
Step 4: Mastering
This is really just finalizing the audio output.
To be honest, this process was beyond what my cognitive powers can take, so on this occasion, I got a sound engineer on Fiverr to do it for me to make sure that the quality of my recording will pass ACX standards.  Musictools is awesome and would highly recommend his service.
You can find the ACX requirements here:
Step 5: Upload on ACX
Finally, upload your audio files on ACX. 
You will also need to convert your Kindle cover into an Audiobook cover and upload it there. There are gigs on Fiverr that can do it for you, but it's really very simple – it's just a matter of re-sizing your cover.  You can do it yourself using paintbrush.  The instructions will be ACX when you upload your files.
Once you've uploaded everything, just wait for ACX's approval.
This process takes about 10-14 working days, assuming there are no problems.
Once you get ACX approval, your Audiobook will become available on Audible and Amazon, and then later on iTunes.
And there you have it, you have turned your Kindle book into an Audiobook. ☺
If you would like to listen to a sample of my Audiobook, you can go to Audible.com
You can also get the complete Audiobook for FREE by signing up with Audible for a 30-day trial period.
.
.
Happy recording!
About the contributor:
Dr. E V Estacio, Ph.D., CPsychol, SFHEA is the author of the #1 Bestselling book, Change Your Life for Good.  She is a chartered psychologist with over 18 years' experience in research, health promotion, and community development. She is the founder of The PAME Code and mother to a delightful two-year-old little boy. She is learning from SassyZenGirl how to successfully promote her books so she can reach more people and help them to live a purposeful life.
---
If you are ready to record your own audio book, but are still a little intimidated by the process, the "Audiobooks Made Easy" course by former studio musician – and bestselling author – Derek Doepker will take you through the process step by step. Best of all, Derek will help you personally with any questions and problems along the way and give you feedback on your recordings. Sign up HERE
---