*********
"Beautiful Palace"
that is the meaning of the Balinese word Puri Bagus – and it is indeed a fitting name!
This well known luxury resort on the Northern Coast of Bali near Lovina features 40 Balinese style villas and a spectacular pool – right on the ocean.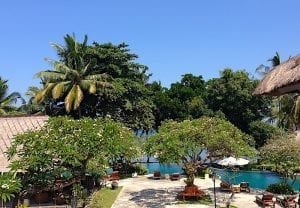 Green, palm tree lined pathways invite to leisurely strolls along the blue waters…..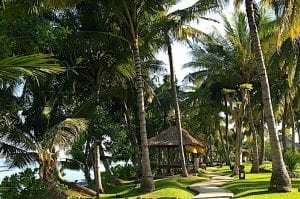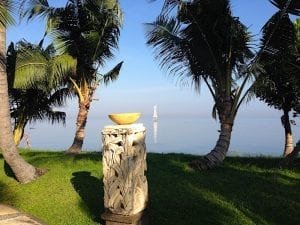 …charming gazebos offer blissful relaxation and just getting away from it all…
…black beaches, typical for North and Eastern Bali, impress with magnificent sunset views: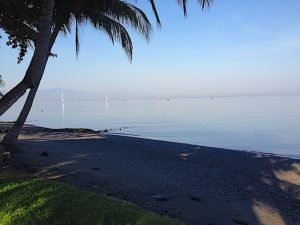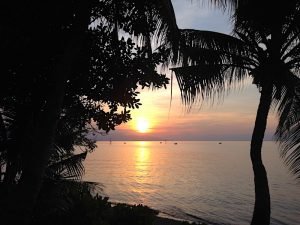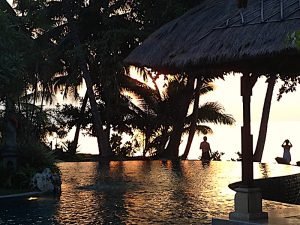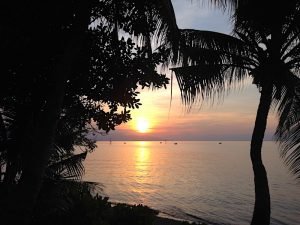 You can experience the beautiful atmosphere at this Luxury Resort here:
The Puri Bagus Concept
Puri Bagus Lovina is part of the Puri Discovery Group who also offers resorts in Candidasa, Manggis, Jati, Baliem Valley in Western New Guinea, and the newly opened agro tourism resort of Bagus Agro Pelaga.
The company is Balinese owned and run and incorporates the Balinese philosophy of tri hita karana, meaning: harmony with people, harmony with God and harmony with nature, adding a special touch of traditional Balinese hospitality to the experience.
The 40 villas are grouped into 3 categories: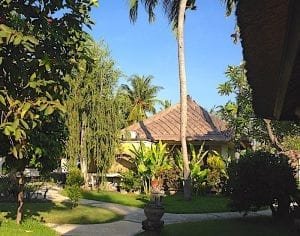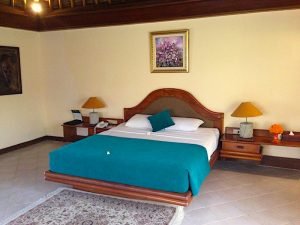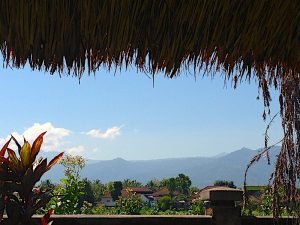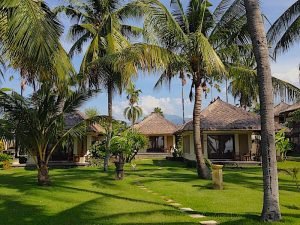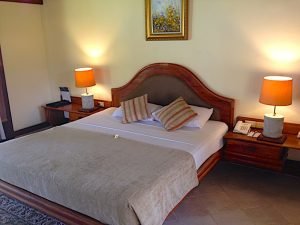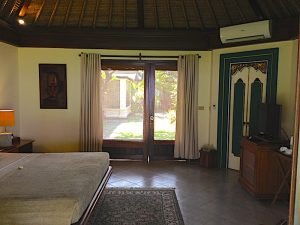 Duplex Suite with Pool (Ocean View)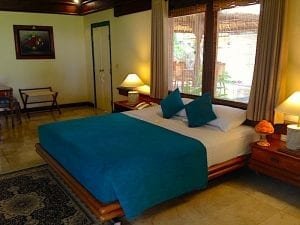 Outdoor showers….
Gorgeous Ocean Views right from your Terrace…..
Ocean front Villas and Suites offer serene ocean views and a lovely terrace to enjoy the scenery.
If you love the ocean, that's definitely the way to go – it will be a beautiful experience!
The Garden Villas on the other hand felt a little crowded, had no view and were overall a bit run down – not what I would normally expect at a luxury resort – and that includes the furniture. Terraces were along a busy walkway or facing a wall, so a very different experience from the ocean front properties.
Overall – in all the rooms – room interiors are relatively simple for a luxury resort and offer no safe, often no flat screen TV – and very slow internet.
Room sizes alternate between 25sqm and 36sqm – the latter offering a pleasant feeling a spaciousness.
All villas are tastefully arranged to blend into the scenery, luscious palm trees lining the way – always my favorite tree…;-)
Exquisite Beauty and a Stunning Pool
Everything else on the grounds is magnificent, especially the pool, which counts among the top 10 most beautiful pools I have seen so far on my travels!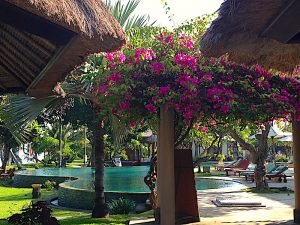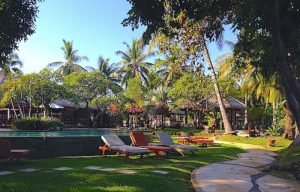 Ping pong table and pool bar…..
…a lovely pond in front of Saraswati Restaurant…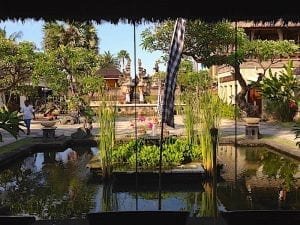 A Spa on the Ocean
An amazing architectural feature is Jaya Spa with little water ways connecting each open suite. I had a wonderful Balinese massage there with the soothing sound of ocean waves in the background….
Wonderful!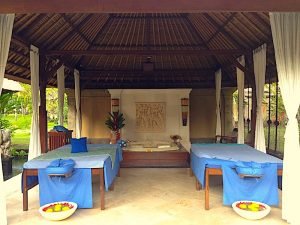 A Yoga Retreat under Palm Trees
In line with the serene settings, Puri Bagus Lovina has started to offer Yoga packages from between 4-11 days, inclusive of daily Yoga classes, meals and several other activities that have become very popular among travellers.
Yoga classes are held either open air or in this lovely building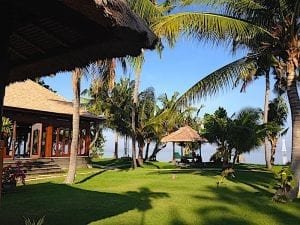 Participants can also enjoy a visit to nearby Ananda Marga Meditation Center which houses an orphanage that the resort supports.
Foodie Heaven
Puri Bagus Lovina offers an open air restaurant – Saraswati – and food options are delicious. Special praise has to be given to the magnificent breakfast buffet, offering ready to made eggs, pancakes and many other scrumptious options to start the day.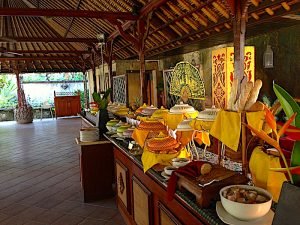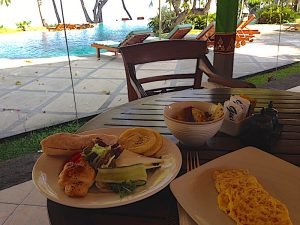 Once a month, a voluptious Balinese Dinner buffet and Dance performance are offered as a special treat for all guests. I greatly enjoyed all the culinary delights and would definitely recommend attending if this is offered during your stay.
Dolphins and other Marine Adventures….
Lovina is famous for its dolphins and daily morning cruises are available to see the lovable mammals in action. Puri Bagus Lovina also offers this tour.

Be aware though – the only available boat option (anywhere in Lovina) are small, narrow fishing boats that are very uncomfortable and come with deafening motor noise for 2 hours straight (the trip out to the dolphins takes an hour each way). So be sure to bring ear plus or you will be deaf for the rest of the day.
Another unfortunate fact about the dolphin adventures is that they are totally overcrowded. I easily spotted 50 boats that morning and very few dolphins – if any. The rare moments when they did show every boat immediately raced over to get closer, so a pretty terrible experience overall.
Fortunately, our "captain" had to fix some motor failure along the way which brought us there late resulting in us staying much longer than anyone else.
That's – when the dolphins started to appear in large numbers!
They obviously avoided all the noisy boats, but were happy to show with just a few boats around.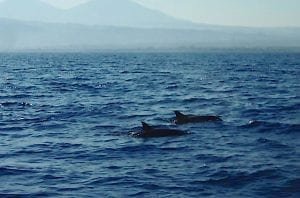 So try to arrange a tour a little later than everyone else and you might actually get to see some dolphins (and without the crowds).
The resort offers a much nicer alternative:
A Breakfast Cruise on a 17 meter teak outrigger, cruising along the North Bali coast offering beautiful views, dolphin encounters and snorkeling options – that's what I would call a luxury experience!
Dinner Cruises are also offered, and sunsets with the Java Volcanos as a backdrop are magnificent.
A professional diving shop at the resort can take you to beautiful coral reefs, and snorkeling is another wonderful past time in this region.

A gorgeous Retreat
In closing, Puri Bagus Lovina offers a wonderful retreat in a serene paradise with beautiful grounds and magnificent ocean views (if you pick the right room) – far enough away from touristy Lovina.
The staff were mostly wonderful and always ready to help. There was one incident involving other guests where attending staff members appeared helpless and managers were nowhere to be found, but otherwise, a good staff experience.
Puri Bagus Lovina was the first Luxury Resort on the Northern Coast of Bali and has definitely remained one of the top accommodations there.
For more information of to book with Puri Bagus Lovina, please visit their website.
SassyZenGirl Score: 8.8
Location: 10/10
Uniqueness: 10/10
Accommodation: Superior Garden View 6/10
Accommodation: Deluxe Ocean View 9/10
Accommodation: Villa Suite 10/10
Pool: 10/10
Restaurant: 10/10
Staff: 9/10
Activities: 9/10
Wifi Speed: 5/10
Zen Factor: 9/10
TOTAL SCORE: 8.8/10
SassyZenGirl Score Point System: 10 points available – 10 being the best, 1 being the least
Other Luxury Resorts in Bali:
West Bali National Park – The Menjangan
Ubud – Suara Air Luxury Villas