*********
Sossusvlei in the Namib Desert remains to this day among the most stunningly beautiful experiences in all my travels!
It was breathtaking, stunning, magnificent and also incredibly quiet.
There is a stillness about the desert – and the Namib in particular.
Time just stands still, you can hear the silence – and the colors…..
The colors are so different…..richer, warmer, fuller and with an otherworldly quality that many other travellers have described as well.
It is magical!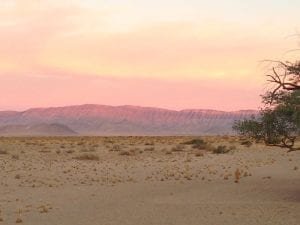 If you ever make it to Southern Africa, be sure to include Sossusvlei in your journeys – it will be the experience of a lifetime!
Definitely, a Zen trip……
General Travel Tips – Namibia
To explore Sossusvlei, you can either rent a car at the airport (you will need a 4-wheel drive and should know how to change a tire) or join one of the many tour groups that leave from either Windhoek or Swakopmund.
While Windhoek is not that interesting and becoming more and more crime ridden, the little coastal town of Swakopmund is delightful and can be a wonderful starting (or end) point for your journey.
If you are in for a really amazing treat, check out Na'ankuse Wildlife Lodge near the Windhoek Airport for a night or two.
Na'ankuse combines programs for wildlife conservation, in particular rescuing and repatriating big cats, support programs for the San Bushmen (incl. a children's school) and a magnificent, huge property with LOTs of wildlife and activities, incl. a cheetah walk, while staying in lovely chalets. (Na'ankuse is also supported by the Jolie-Pitt Foundation).
READ MY REVIEW OF NA'ANKUSE on The PLANET D
Beautiful Guest Chalets….
with a Dossi in the "Affection Section", the baby nursery at Na'ankuse.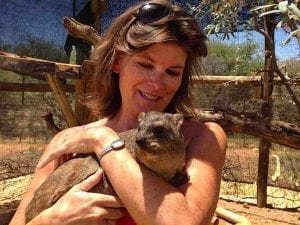 With rescued Cheetah Kiki who was roaming freely wherever she wanted (NOT a petting zoo as so often in South Africa). She also purred a lot like a cat….
Naankuse also runs a volunteer program for wildlife enthusiasts and you might get to sleep with a monkey baby (nappy'n all….).
In general, Namibia is a very safe country to travel in – one of the safest in Africa – and the country is sparsely populated. You might go for hours (or even days depending on the region) without ever meeting anyone.
Always be sure to have enough water and extra gas/petrol. You never know when the next gas station or store might appear.
The Namibian Dollar is linked to the South African Rand at 1:1 at all times and since that currency is currently down trending, travel in Namibia has also become more affordable.
Namibia used to be German West Africa and the German influence is still everywhere – especially in Swakopmund. Overall I found people less friendly and warm than in South Africa or Zimbabwe, especially at immigration, but you will still find many lovely locals who are happy to chat and help, so don't ever hesitate to ask.
A Road Trip through the Desert
Since it was my first time in an African desert, I decided to join a tour and found a good one with Chameleon Safaris who offer a variety of trips all over Namibia with different comfort levels and prices.
I usually prefer the solitude of travelling by myself and absolutely LOVE road trips, but in this particular case I was glad I didn't have to drive myself and could just sit back and enjoy the magnificent scenery.
Be sure to book an air conditioned bus, because the heat is brutal and sitting in a bus without AC for several hours is not fun, even with open windows.
I was picked up in Swakopmund on a Friday morning and the journey began!
Even just driving through the desert was beautiful!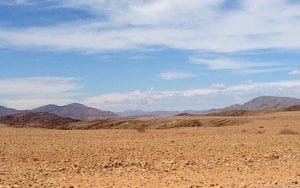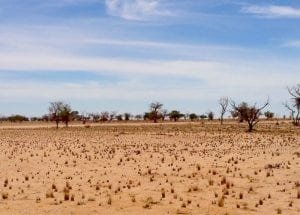 Outdoor toilet…..
and more desert road, now heading into the mountains….
passing the Tropic of Capricorn…
Solitaire in the Desert….
There are no towns or villages anywhere along the way, so the above out house was the only pit stop for several hours until we reached a cute little place in the middle of nowhere – aptly named "Solitaire".
Famous for Moose's Apple Pie – "the best apple pie in the world" – and it was indeed delish…
Solitaire also offers the only gas station along the way, as well as a restaurant and little shop and bakery.
A lovely interlude.
Sesriem Desert Camp
After another hour and a half, we reached our tented Desert Camp and what a beautiful vista it was.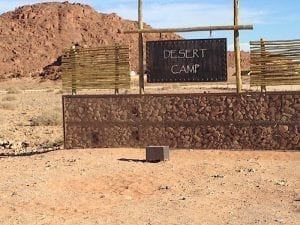 Gabriel, our guide and driver, cooked a wonderful barbeque dinner and we got ready for the night and an early rise – awe-inspiring sunset included….
The Magnificent Sand Dunes of Sossusvlei
The next morning, we rose early to a wonderful breakfast and headed to the Desert Dunes of Sossusvlei.
One of the most stunningly beautiful places on earth, I will mostly let the pictures do the talking – in spirit with the beautiful silence and stillness I experienced in this remote part of the world.
Sossusvlei is a National Park and as such sand boarding and other sporting activities are not permitted. You can, however, climb the dunes (quite strenuous) and then slide down on your butt or simply run down which feels like a trampoline – totally awesome!
Sesriem Canyon
In the late afternoon, we visited a small, nearby canyon. Not quite the same magnificence, but definitely a nice experience.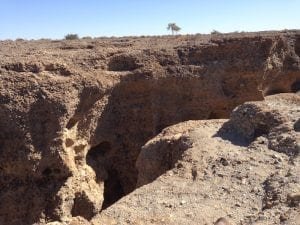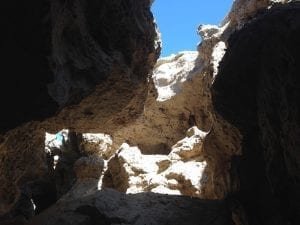 Watching Cheetahs…..
Sunday morning, we headed back to Solitaire to visit several newly repatriated wild cheetahs in a nearby game reserve.
This program is run by the above mentioned Na'ankuse Foundation who also runs the wildlife lodge in Windhoek. They collect captured big cats from farmers who would otherwise kill them – leopards, cheetahs, lions etc. – and repatriate them into areas where they are less endangered. The Solitaire location also serves as a research station.
Then it was time to return to Windhoek and an amazing adventure came to an end.
If you are ever in the region, don't miss Sossusvlei! Namibia has many more attractions, incl. Etosha National Park in the North and Fish River Canyon in the South, but the Sand Dunes of Sossusvlei are the absolute highlight of this unusual country – and the desert never shines more beautiful than here….
To book a tour with Chameleon Adventures, please visit their website here.
To book a stay at Sesriem Desert Camp (self-catering, 3-star), please visit here.
More Southern Africa Articles:
SOUTH AFRICA – The Stunning Cape Peninsula
BOTSWANA – Chobe National Park and River
SOUTH AFRICA – The Garden Route
ZIMBABWE – The Legendary Victoria Falls Hotel