Elephants…..
Giants of the wild, beloved all around the world – an aura of mystique and wonder, and somehow of everything that is good in the world.
Even little children smile when they see an elephant – and most of us are mezmerized whenever we come across the gentle giants….
Recently I had the good fortune to meet one up close and "in person" – and it turned out to be one of the greatest days of my life!
During my stay at Kruger National Park in South Africa I decided to visit one of the local Elephant sanctuaries and found "Elephant Whispers", about 70km from the park. The drive is gorgeous – passing through the stunning Drakensberg Mountains with a lush greenery I didn't expect in this part of the world.
The elephants at the sanctuaries are usually orphaned or were threatened by culling – and for one reason or another could not be released back into the wild.
Instead they found a permanent home at this beautiful 40 hectar property where they roam freely whenever they are not meeting visitors.
Currently, there are 6 elephants – 2 girls and 4 boys – and they are being trained gently and humanely using a love/reward system similar to training a dog (positive reinforcement).
None of them wear any kind of harness, but have learned over time to commuicate with their handlers, called "Mahuts".
Interestingly, the Mahuts are all from Zimbabwe. The local population is afraid of elephants, knowing them only from the wild where they can be ferocious at times, but the Zimbabweans grow up around elephants and learn from a young age how to care for them and train them.
This is the first I saw of them:
The big guy on the right immediately caught my eye. He was huge, absolutely gigantic – and he is not even fully grown at 3.3m and 6 tons…..
Needless to say – I was in love…;-)
After a thoughtful and in-depth introduction we were able to meet two elephants up close: Shamwari and the big guy – Tembo.
I was suprised to find how rough and hairy an elephant's skin is, and yet so sensitive. If you pour water on it, it never drops to the floor, because the skin acts like a sponge.
Elephants also have big, beautiful eyelashes and a hairy tail, though the hair is very coarse.
And did you know that the ears of African elephants actually have the shape of Africa and Indian elephants the shape of India?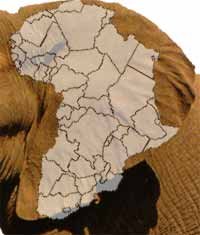 Food is definitely important and they never seem to stop eating….;-)
A grown elephant like Tembo eats about 300kg per day.
They love attention and can get very attached to a handler which is why at Elephant Whispers the handlers rotate between elephants every day.
Elephants also have an excellent memory. They never forget how someone treated them – both good and bad.
The soles of their feet are highly sensitive, and they can feel another elephant 75km(!) away.
As an animal lover who had frequently seen reports and undercover video of elephants being abused with hooks and sticks – circuses are especially notorious for this horror – I had no interest in a circus show at the expense of animals who had to earn their keep.
I had asked around a bit and it seemed that the people at Elephant Whispers were genuinely loving and respectful of these magnificent creatures and were doing their best to provide them with a loving home, rather than facing the alternative – being killed.
You can find out more on how they interact and train these lovely giants as well as the bios of all 6 elephants here – a beautiful read indeed!
The place is owned and run by Rory and Lindie Hensman who developed a unique training method that earned them the esteemed title of "Elephant Whisperers" and emphasizes a system of positive reinforcement with rewards and lots of love.
Most of these guys know 40-60 commands – and my friend Tembo knows over 100(!).
In truth though, doggies Ella and Tessa are really in charge….;-)
Elephant Whispers lies on a beautiful, lush green property, and everything is lovingly geared towards elephants. These are the bathrooms in case you were wondering….;-)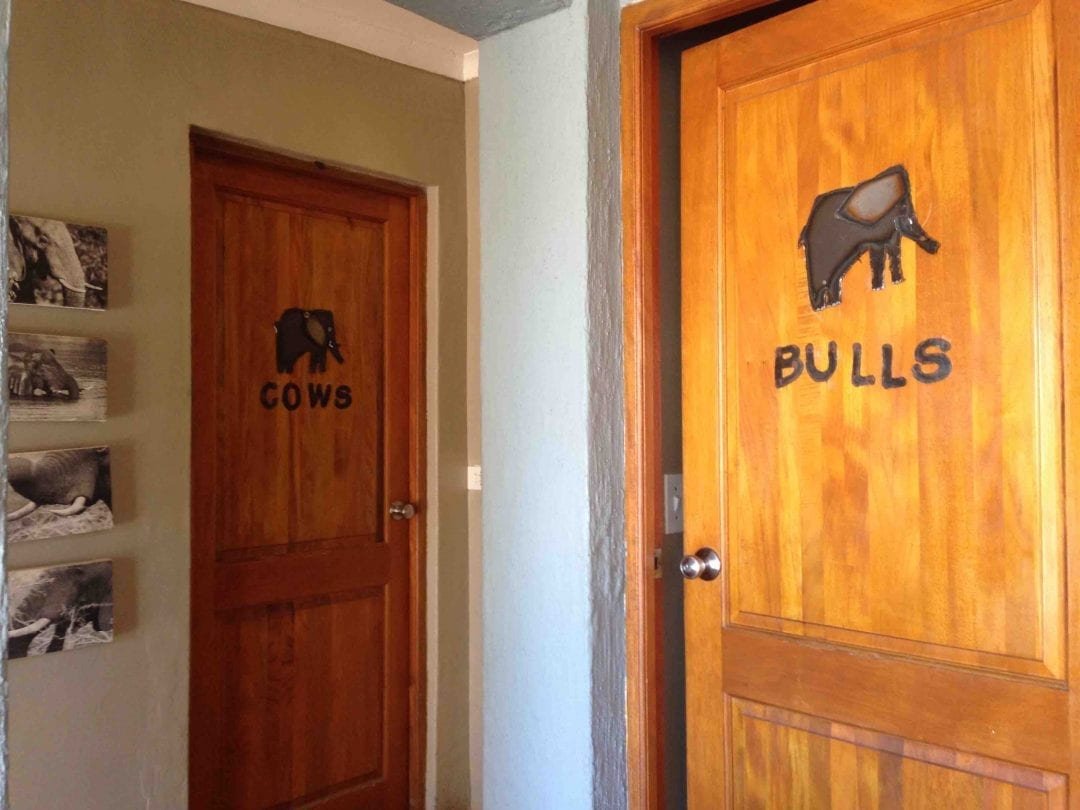 After the first encounter and loving introduction, it was time for a short ride. I was excited to see that I would get to ride Tembo, though any of the others would have been wonderful, too.
Sitting on an elephant is very comfortable. I grew up riding horses and this was definitely much gentler. We took a trip through the surrounding bush land and whatever expectations I had of riding an elephant, they were far surpassed by Tembo and his handler Edmonde.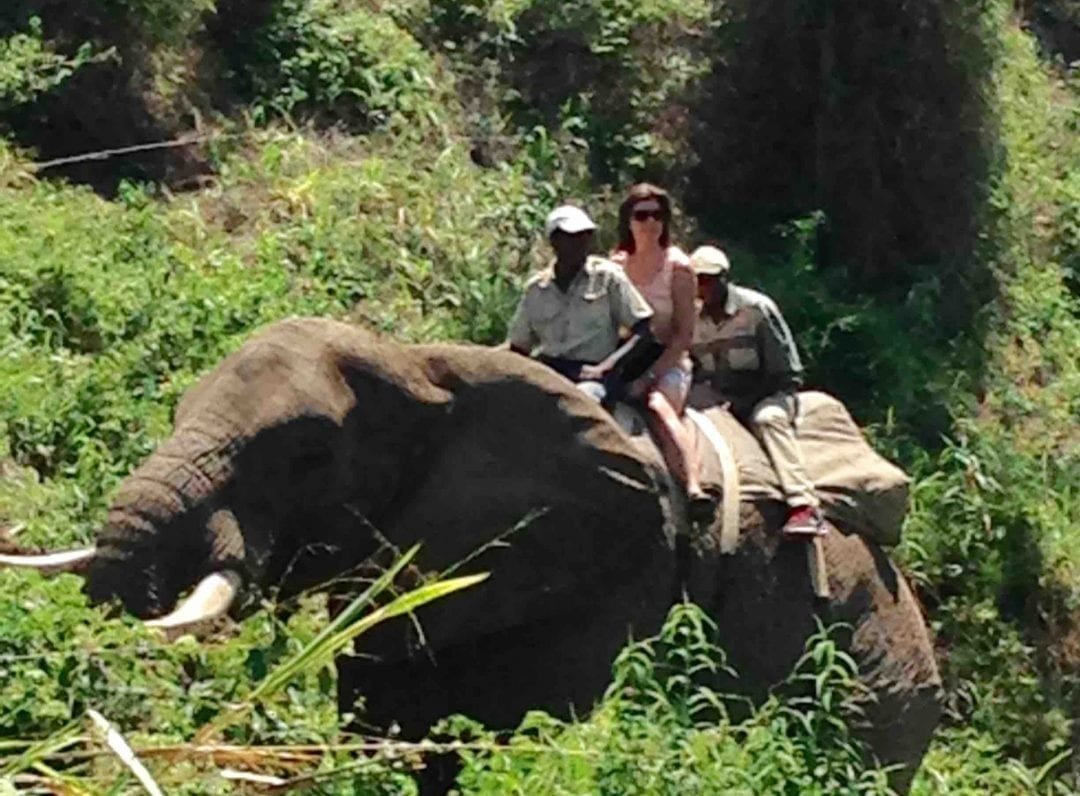 It was an absolutely amazing experience and I hope you all get to do it at least once in your life.
Asser, my guide from the lodge, also really enjoyed his ride and was happy to have overcome his fear of elephants, which he only mentioned to me afterwards….;-) – He is sitting behind me, they had generously allowed him to come along.
 This concluded one of the most amazing experiences of my life, and I thank Tembo and everyone at Elephant Whispers for making it possible.
More Wildlife Encounters & Sanctuaries in Africa:
Marine Wildlife Sanctuaries along the Whale Coast Route