*********
In the most remote corner of Bali – the West Bali National Park – one very special place recently captured my heart:
a Luxury Resort with Beach Villas so quiet and secluded you easily forget busy civilization and all the stresses that come with it.
A haven of peace, surrounded by beautiful nature and wildlife – a blissful sense of calm to nurture the soul.
"Menjangan"  means "deer" in the local language, and deer are indeed plentiful in the West Bali National Park where the resort is located.
A fitting name for a place that has become one of my top favorite luxury accommodations – and I can't wait to share its wonders with you.
To get a sense of the special atmosphere at The Menjangan, I invite you to start with this video – you will feel more relaxed and peaceful already….;-)
A Perfect Nature Retreat
The Menjangan's mission is simple: to provide a perfect nature retreat in one of the least visited, but most beautiful parts of Bali.
Accommodations built in harmony with nature, incorporating Balinese architectural styles to blend in easily with their surroundings and providing a perfect hideaway for stressed modern day travellers.
As a hermit and lover of meditation and nature, The Menjangan was a perfect abode for some quiet time and my experience couldn't have been more beautiful.
I'm still smiling just thinking about it…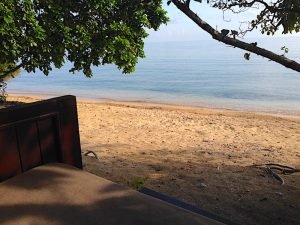 The resort features 3 types of accommodation:
the "Monsoon Lodge" deep in the forest,
the "Residence" atop a cliff with spectacular views and complete privacy
– more on those two later –
and my absolute favorite: 7 Beach Villas that I had the good fortune to stay in for 3 nights – literally right on the water.
Blissful Beach Villas
I love the ocean…
It is my favorite place to be and I'm always amazed how calming the sound of ocean waves and the smell of sea air can be. So deeply relaxing and soothing.
Top that with a beautiful, spacious Beach Villa (100 sqm) in the traditional Balinese "Joglo Style" and you found yourself a slice of paradise.
I let the photos speak for themselves: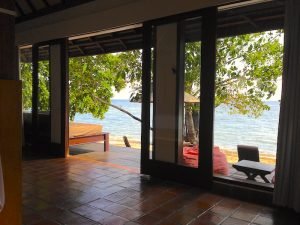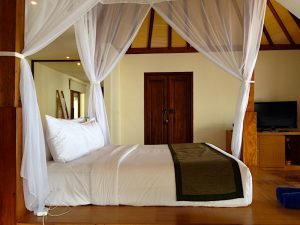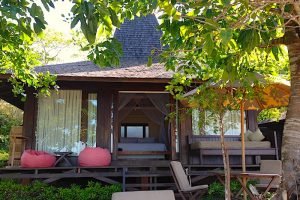 Sleek, minimalistic interiors and top to bottom windows..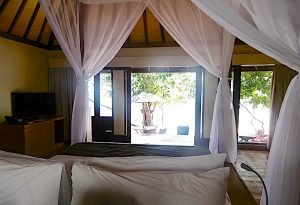 And then there is the bathroom…..
Outdoors….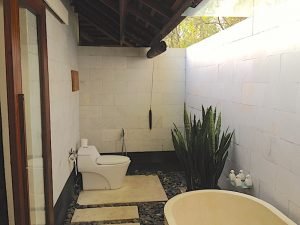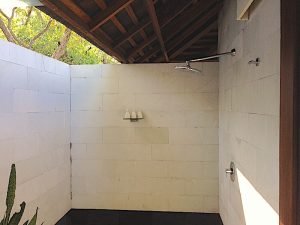 Beautiful….
Sunrise Magic…..
The next morning I awoke to this view:
…an amazing sunrise right from my porch in the company of monkeys, deer and birds who love the undisturbed quiet of the morning.
Breakfast on the Water
Breakfast was served at Pantai restaurant down a short walkway with seating right by the water: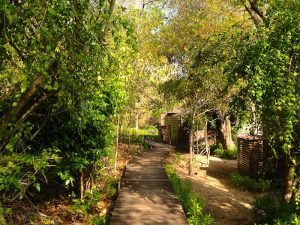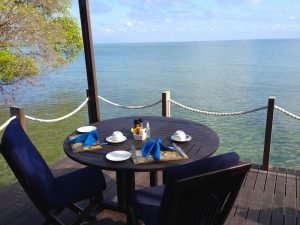 Delicious Virgin Pina Colada and some strong Balinese coffee: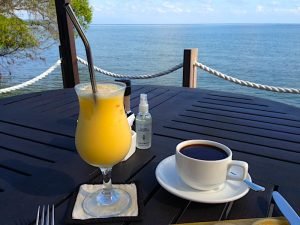 Breakfast is a la carte, but you can pick as many items on the menu as you wish, and the staff encourages you to.
A Horse Ride through the National Park
Pleasantly filled and rested, I started on my first outing of the day, also one of my favorite past times: horse back riding.
The resort has its own stable of well trained Australian horses and private guides will show you the most beautiful parts of this remote region.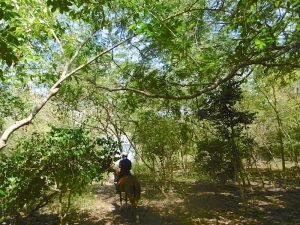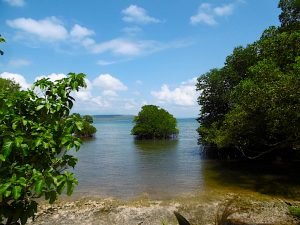 You even get to ride along the beach and into the water – or take a sunset ride.
We saw many birds along the way as well as monkeys and occasionally deer and what more beautiful way to explore nature than on the back of a horse….
Zen out by the Beach….
I spent the rest of the day enjoying the blissful calm of my beach villa and the soothing sound of ocean waves.
One doesn't need much else, really….
Then this happened:
a group of Menjangan deer paying me a visit….
so beautiful…
There is a sacredness about this place, hard to describe really, and a group of deer suddenly appearing and walking right by my veranda was another touching example.
A Safari Ride and a Magnificent Sunset…
Around 5, I had one of the cute Safari vehicles take me to Bali Tower to watch the sunset.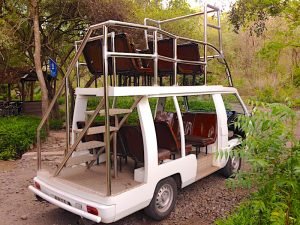 The resort encompasses 382 hectares of pure National Park and transport on a Safari vehicle with spotlights for nightlife viewing and double decker seating provided a nice touch and unique experience.
Sure enough, we saw deer along the way as well as monkeys, birds and other creatures.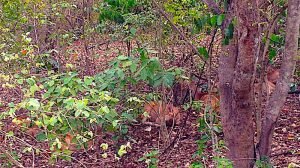 The "roads" if you want to call them that are deliberately kept in bad shape to ensure the 10km/hr speed limit within the park is honored by all cars – and it works….;-)
The drive from the Beach Villas to Bali Tower which also serves as Reception and 2nd Restaurant option takes about 15 minutes and is always an adventure.
Amazing Sunsets and a View into Java…
Bali Tower features stunning aerial views of the National Park.
It is the first building every guest encounters, and the terrace alone is worth a visit: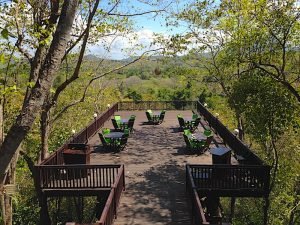 Built from five huge logs – each 33 metres long and 80c in diameter – Bali Tower climbs above the tree line offering 360 views over the National Park and into Java.
The ground floor houses the lobby and reception area where this lovely welcome dish and drink were served on my arrival: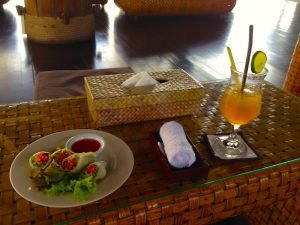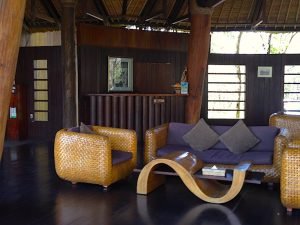 2nd and 3rd floor offer a wonderful restaurant with Meditarreanean and Indonesian cuisine – I had one of the best veggie burgers ever here:
4th and 5th floor offer viewing platforms with spectacular views:
Happy Hour….
And this was the sunset:
mmhhhh……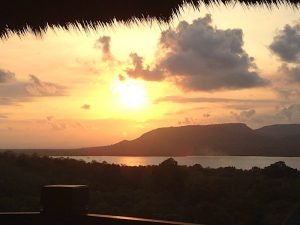 Driving back through the dark was another adventure: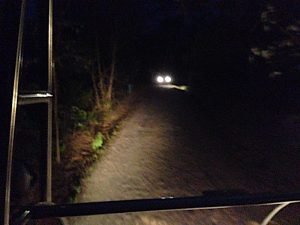 and I concluded the day with a relaxing bubble bath in the outdoor bath tub to the sound of ocean waves and circadas.
Another wondrous Sunrise….
The next morning started with another beautiful sunrise in peaceful quiet as everyone else was still asleep.
Joining me in the morning bliss were a herd of Menjangan deer cooling off in the water and a few monkeys….
Kayaking through the Mangroves
After another scrumptious breakfast, it was time to go kayaking through the nearby mangroves in Bajul Bay – best done in the morning during high tide.
Quiet and serene…..
Bajul Bay also features a beautiful coral reef that can be accessed right from the resort's jetty, and I went snorkeling there afterwards.
Diving and Snorkeling at Menjangan Island
Even more special for diving and snorkeling is nearby Menjangan Island, a famous diving spot with a beautiful coral reef.
The resort offers day trips to Menjangan Island and also operates a 5-star diving center with private trips available every day.
So if "Zen-ing" on the beach is ever not enough, there are plenty of activities to choose from….
More activities and a beautiful Spa…
Aside from horseback riding, kayaking, snorkeling and diving – guests can enjoy hiking, biking and bird watching as well as a first class spa with little gazebos right on the water:
The mirrors reflect the water while enjoying a wonderful massage. A lovely idea, among so many at this beautiful place.
Other Features…
Eco friendliness is held high at The Menjangan and as such you won't find any printed materials in the accommodations.
Instead all information – as well as a large number of free movies and music selections – can be accessed through the flat screen TV.
What you will not find is TV channels – and thank goodness for that!
Free wifi is available throughout the property – not super fast, but managable – but no noisy TV shows or commercials – what a bliss…..
Drinking water is free and available at a number of locations throughout the resort as well as 4 daily water bottles in the room.
And you can purchase these bottles and support the conservation effort:
A Forest Lodge…
While I absolutely loved my beautiful Beach Villa, Monsoon Lodge is another option if you prefer to be in the midst of a forest.
The lodge offers Deluxe Rooms and Suites as well as a beautiful pool and a library.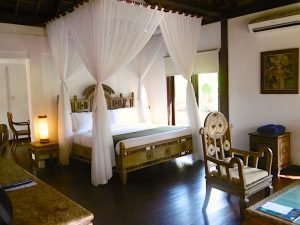 No restaurant or pool bar though – or room service – but free transport to either Bali Tower or Pantai Restaurant near the Beach Villas as well as a "public" beach area.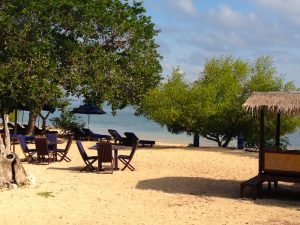 Total Seclusion at The Residence…
Complete seclusion can be found at an estate called "The Residence" atop steep cliffs with stunning views of Bajul Bay.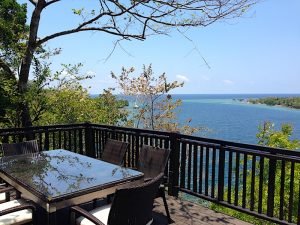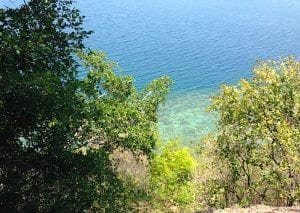 The compound features 3 rustic 1 bedroom cabins, as well as a living room and kitchen area.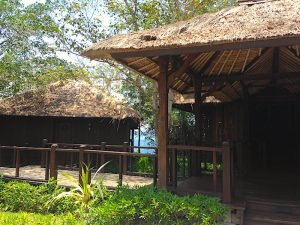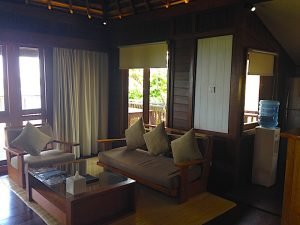 A butler lives on the premises and is available 24/7. You can also have a cook prepare meals in the kitchen.
The Residence can only be booked by one party at a time – ideal for larger groups or families – and is far away from all other accommodations.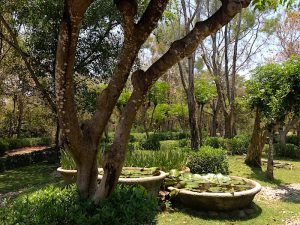 The private pool:
The Staff – Heart and Soul…
The Menjangan staff is wonderful!
Everyone goes out of their way to make your stay as magnificent as possible – and they succeed!
In particular, Guest Relation Manager Gelgel is an absolute delight and greets guests every morning during breakfast, making sure everything is ok and helping with activity arrangements for the day.
The staff are considered family and while none live on the premises an integrative atmosphere is created that is tangible for every visitor.
Balinese people are known to be exceptionally warm and friendly and nowhere more so than at The Menjangan!

Conclusion
So there you have it….
One of my favorite places in recent travels and a truly unique location to get away from it all.
If peace and quiet and remote, wild nature are what you are longing for, few luxury resorts will provide it as well as this one – and in such style!
See for yourself….
To book a stay at The Menjangan, please visit www.TheMenjangan.com
The Menjangan is owned and operated by Lifestyle Retreats. You can check out their other properties here.
SassyZenGirl Score: 9.7
Location: 10/10
Uniqueness: 10/10
Accommodation: Beach Villas 10/10
Accommodation: Monsoon Lodge 9/10
Accommodation: Residence 10/10
Restaurants: 9/10
Beach: 9/10
Staff: 10/10
Wifi: 10/10
Activities: 10/10
Zen Factor: 10/10
TOTAL SCORE: 9.7/10
SassyZenGirl Score Point System: 10 points available – 10 being the best, 1 being the least
Given the remoteness of the location, I gave wifi a 10, because it is commendable to have wifi at all at a National Park and I don't expect lightning speed there. It wasn't fast, but certainly managable.
Other Luxury Resorts in Bali:
Lovina Beach – Puri Bagus Lovina
Ubud – Suara Air Luxury Villas