*********
"I had a farm in Africa…."
Meryl Streep's iconic first words from Out of Africa came to mind when I was offered a farm sit in the lovely wine region around Cape Town – Wellington to be exact.
The scenery was quite different of course, and I wasn't involved in running a farm, except for watching over 6 large dogs, but for my first exploration of Africa, this was an awesome start!
The farm was owned by a young couple – an American NGO/Health consultant and a South African farmer who had taken over the family business and added a nursery – lovely people!
The dogs were "lovely", too…..;-)
6 big males all named after famous people (you can guess…..):
Ringo, Arnold, Nelson, Oscar, Jasper and Max….
….a mix of Rottweilers, Rhodesian Ridgebacks and Weimaraners – gorgeous dogs and very well trained and behaved.
I love solitude and spending a month here over Christmas and New Year's was Heaven!
The staff were all on Christmas break, so I had the place to myself, except for one worker who quietly came morning and evening to look after the nursery and check on things.
Wonderful man!
The scenery was stunning – the mountains in the back and a lake in the front, embraced beautifully by vineyards and olive groves.
Dog Walking among lakes and vineyards…
This is where I would walk the dogs twice a day….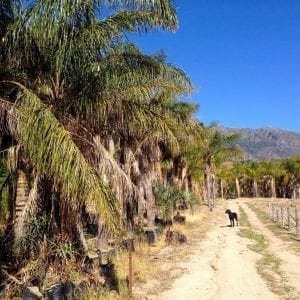 a lovely garden…
and then there was a horse!
A Horse in the Garden….
32 years old(!) – ancient for a horse – and had never been ridden. She had lived on the farm all her life and did whatever she pleased.
She was not tied to a stall but could just wander around wherever she wanted…
Yes, there's a horse in the garden!
She was gorgeous and didn't look a day over 10….;-) and she was very confident – to the great frustration of the dogs.
They tried to chase and scare her, but she wasn't impressed and would kick at them if they got too close – they were quite scared of her. Good for you, girl!
During the day, she liked to be let outside for a walk in the vineyards……what a life!
Big Doggy Personalities
Among the dogs, each had a distinct and lovely personality.
There was beautiful Oscar – always a little hyper, and VERY aware of how handsome he was – making sure I didn't forget. Very mischievous that one….;-)
Ringo was the smartest and a little Yogi. He knew how to open the doors and would occasionally sneak into the house during the day. I could relate, he needed some space, and he was very quiet.
Nelson, my favorite – a huge muscular Rhodesian – who would have been better served with the name Arnold than Nelson (Mandela), but that name went to his little brother.
Nelson was actually very caring and one time when the dogs were playing and accidentally ran me over, he wouldn't leave my side, making sure I got up again and that I wasn't hurt. Wonderful dog!
The smaller version and the puppy in the group was Arnold. He was adorable, especially when he wrinkled his little forehead trying to think really hard – and quite deep I might add….;-)
That's him, proudly carrying a branch he picked up.
Rottie Jasper always managed to spray me with water when he came out of the lake. No matter how far I moved, he would always drench me….;-)
Maxi, the oldest, was another Rottie with a birth defect that made it hard for him to walk. He didn't join us on the walks, but liked the ladies. Really…;-) – he loved females coming over and padding him and became gentle and sweet though he looked very fierce.
Magical Sunsets
In the evening, we would often walk up the hills to a sundowner spot with a beer or a glass of wine – and the sunsets were truly magnificent:
A wonderful experience that will always count among my favorite house sits.
A farm in Africa……
More Post on South Africa
The Magnificent Cape Peninsula
10 Amazing Things to Do in Cape Town
7 Power Gifts I received from Nelson Mandela
Road Trips South Africa – The Garden Route
One Man's Quest to Erase Poverty – One School at a Time….
The Quiet Beauty of Golden Gate