Digital Nomad Tools
This Chapter will be updated regularly whenever I come across new tools and gadgets - so stay tuned...;-)
30 Essential Digital Nomad Tools

Long term Health Insurance
#1 - One company has become legendary among nomads and long term travellers: World Nomads.
Lonely Planet and National Geographic recommend them - and one of the great bonuses with their program is that you can buy insurance even after you already started your trip and also extend from the road. They prices are very reasonable, and they don't try to sneak out of their commitment when a claim arises. If you want peace of mind regarding your insurance needs, Word Nomads is a fantastic option.
Helpful Gadgets
#2 - Jetlag Buster - The Ultimate Jetlag Cure
This little device looks like an ipod  and sends blue light to your brain. Developed by Finnish scientists, this little guy has been absolutely amazing!! - I used to suffer from heavy jetlag esp. on transatlantic flights, but since I started using it, I'm refreshed and energized wherever I go, even when I had to get up at 4am for a Safari in Africa.
Also gives great additional energy when you don't get enough sleep. A real lifesaver for me. Here is my full review.
#3 - Prey - track & find your stolen laptop or phone
This awesome app tracks your stolen laptop or smart phone as soon as it's connected to the internet and lets you know the geo location. You can also lock your screen and remote wipe all your data.
How is that for peace of mind?
#4 - Mophie - amp up your battery life
A Mophie is a smart phone (or tablet) case with an in-built back-up battery, packing extra hours of battery power for chatting, taking pictures and surfing to your heart's content.
It's compatible with most phones and tablets and can charge up quickly through your computer's USB port.
Travel Planning Tools
#5 - Find the cheapest Airfares ANYWHERE! - for only $49, Award Winning travel agent Beck Power shares some really amazing secrets on how she consistently books super low fares for her clients. These are just a few examples:
Berlin -> Manila - $231
Berlin -> Dar Es Salaam (Tanzania) - $344
Lisbon -> Sao Paolo (Brazil) - $129
Baltimore -> Rekjavik -> Barcelona - $256
New York -> Oslo -> Rio de Janeiro - $380
The course also allows access to a closed facebook group where all new finds can be shared with fellow travellers and course mates, multiplying the amazing deals you can find even more.
If you travel a lot, this little investment is definitely worth it!
#6 - Rome2Rio - This amazing free site/app will search plane, train, bus and car rental sites wherever you are in the world and plan the best itinerary for you. You can also quickly check prices, incl. estimates on gas (petrol) and hotels, as well as connections and trip duration. Also available as a smartphone app.
#7 - Award Wallet - an easy way to keep track of all your mileage accounts. They even let you know when some of your miles are about to expire, which has saved me thousands of miles in the past.
Visa S
ervice
#8 - For any Visa questions or applications Allied Passport & Visa are the go-to place. They are fast and efficient and can quickly resolve all visa issues, saving you a lot of time and unpleasant surprises. Mention SassyZenGirl and get $5 off your next visa application.

Worldwide Wifi
#9 - SkyRoam
With this mobile WiFi hotspot you can get fast, secure mobile data around the world at top destinations in Europe, North and South America, Asia, Africa and Australia. Unlike most SIM card data - Skyroam provides fast wifi and you can connect up to 5 devices.
#10 - Speedtest
A great free app to test whether wifi is manageable. I also use it when vetting housesitting assignments to make sure speed is adequate since most of my work happens online and also involves frequent video uploads etc. - and you can test hotel wifi before checking in.
#11 - Wifi Finder
Wherever you are, this app helps you find the nearest wifi spot. You can search by directory or let the app scan your surroundings.
Also, comes with an offline mode, so you can download maps before you go without incurring heavy data & roaming bills later.
#12 - VPN: Tunnelbear
Great, easy to use VPN provider: Protects your privacy, especially when using public wifi connections and hides your IP address, allowing you to avoid country restrictions on Youtube, Pandora, your home country's TV stations, Social Media etc. - I used it regularily during the 2014 Soccer World Cup to access the German TV commentary....;-)
Travel Apps
#13 - World Mate - all-in-one travel assistant
This amazing Digital Nomad app collects and organizes all your bookings into one itinerary. Simply forward all confirmation emails to trips@worldmate.com and the app will do the rest.
Provides flight status and alerts, calendar syncing, navigation and shareable itinerary details as well as a cool counter-offer feature for hotel bookings and car rentals.
Also includes weather forecast, a tip calculator and currency converter
#14 - Air Help - handles claims for cancelled or delayed flights
If you've been on a delayed or cancelled flight or been denied boarding within the last three years you could be entitled to up to €600 from the airline. This is an amazing app, that can save you endless hassle and frustration. You only pay if they succeed.
 #15 - Pack Point - Travel packing wizard
Provides a checklist of travel essentials, depending on the nature of your trip. Simply create a trip profile with destination, length of stay, and purpose of travel. PackPoint then creates a customized packing list that takes into account weather, trip purpose, and other factors.
#16 - Uber - P2P Taxi
You definitely want that app on your phone! - see TRANSPORTATION for more details.
Communication Tools
#17 - GotoMeeting
The standard tool for holding webinars and  conferences/meetings with fellow travellers, team members, business partners all around the world
#18 - Time and Date
Great for organizing meetings and conference calls across different time zones and continents
#19 - Google Voice & #20 Skype -need no explanation......
 
take a breath....;-)
Digital Business Tools
#21 - Business Website and Blog
Whatever business option you end up choosing, you will need a website, and these days you can easily build one yourself with the help of WordPress. 
For a superfast way to get a website or blog up and running in just 10 min. - yes, 10 minutes! - Check out this video:
for more indepth info, please visit the Blogging Chapter of this Course.
#22 - Quality Web Hosting
You need reliable web hosting with a 99% uptime and fast and efficient tech support. The best, most highly reviewed option is InMotion - both in terms of price and service:
"Best Web Hosting Company of 2015/16" - PCMag
"Best Web Hosting for WordPress 2015/16" - HostingAdvice
"Best Web Hosting for Small Businesses 2015/16" - Reviews.com
I use them for all my sites and this link will give you a whopping 56% discount = only $3.49/month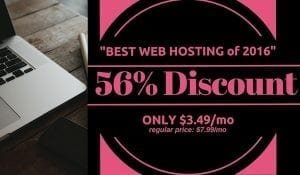 #23 - Mailing List Service
Another must-have for any business owner. I use AWeber, but there are various other options depending on your needs, like MailChimp or Feedburner.
#24 - Wishlist - Membership sites
If you want to create a membership site or add a restricted members' area to your site, then Wishlist is the go to app. Comes with a one-time fee, rather than monthly, and is highly recommended by many top internet entrepreneurs.
#25 - MarsEdit 3 - update your blog offline 
Great software that allows you to update your blog or wordpress website when you are out of wifi range - or travelling by train or plane. You can write and format everything and then upload once you are in wifi range again.
#26 - Screenflow
Record your voice and computer screen for Explainer Videos etc. Also an easy to use basic video editing software, connects directly with Youtube.
Btw, we offer a Youtube Ranking Service that has produced numerous #1 Rankings - check it out
#27 - LongTail Pro - Keyword Research for Google Ranking
Speaking of ranking - this software is one of the best (and less expensive) options for effective keyword research, which is key to success for any Google or Youtube ranking strategy. Check out the Beginner SEO Chapter for more details on keywords and Google Ranking.
#28 - Expensify - keep track of all your expenses
Awesome tool for keeping your expenses organized! - Simply scan each receipt with your smart phone and Expensify will automatically log them into the proper expense category. You can even import purchase info from your credit card for IRS validated eReceipts.
In addition, the app allows you to:
- manage and access travel plans, including real-time flight updates
- track miles manually, using GPS, or odometer readings
- log and bill hours to clients
- enjoy automatic currency conversion
Pretty awesome for one simple tool!
Shoebox is another excellent tool for keeping your expenses and receipts organized.
#29 - Dropbox
Creates a folder on your desktop and automatically backs up everything you put in there to the cloud. Also great for sharing large documents.
#30 - Trello
A free Project Planning Tool. Also great for team projects. 
You made it through this long list - Congratulations....;-)
Get many more apps and travel saving tips here: