…..
BONUS CHAPTER from the Smash Hit #1 Bestseller:
What the booty is a "Brand"? – and why do I need one?
Superliscious question!
Why indeed?
Well ….
Actually, you don't – "need" – a brand.
You ARE – the brand.
Woa!
Ummm.
Wha'..?
I don't get it…?
Yep.
Your brand is an expression of WHO you are and what drives you…
aka WHY – you do what you do.
mhhh…..
wha…?
I know….
Super fluff….;-)
But bear with me – there is a point here…
First, let's trash one mega boo-boo myth:
Do you do need to spend thousands of dollars and hire an expensive PR firm to create your brand?
Yo, NO. Not cool!
Not at all!
You – and only you – can create YOUR brand successfully, and it's one of THE most FUN parts of entrepreneurship and building a business.
Ready?
Let's do this:
So WHO are you?
No, seriously.
More importantly:
WHY are you passionate about your biz/ product /niche?
You are passionate, right…?
Otherwise, what's the point?
So tell me – I mean that – tell me:
Why are you so  passionate about your business/product?
What do you LOVE to share with your customers/audience?
What are you hoping will their experience be like when they read your book or blog, use your product for the first time or have their first session with you?
Whatever it may be.
NOPE – don't think!
Just FEEL into it and then tell me. Excitedly! – Like when you first conceived your awesome project.
Don't try to be perfect. Perfect is boring.
You can share in the comments below – I will definitely read it.
In the meantime, record while you tell me or invite a good friend over for coffee and tell them.
Or tell your doggy or kitty. They are great for this…:)
Share how PRECIOUS this is to you and why.
Again, either record it or have the friend give you feedback.
You can also send me an imaginary email…;) – I'm only half kidding…
Ummm, seems odd, why are we doing this? I feel silly…
Well….because once you do and get over yourself. Once you start speaking from your heart and let your enthusiasm EXPLODE, you will notice certain words and patterns coming up.
Choices of words that are very unique and specific. And usually very beautiful.
When you speak with enthusiasm, you speak from your heart and the true you comes through – not the cookie cutter fit-in version that most people present to the world.
THAT's who we want to see.
And that's where your brand will come from. It's actually already in there, you just have to unveil it.
Yep.
That simple.
So enjoy that little process and do it a few times if you are self-conscious at first.
Then write down the words that stood out. In particular power words that carry strong emotions.
Here is a whole epic list of power words to give you an idea of what I mean.
Generic is Boo-Boo
I can't say it often enough, but generic is BOOring and businesses with generic marketing usually don't last long.
We are SO tired of seeing the same old/same old over and OVER again – and absolutely LOVE when someone brings a breath of fresh air to their branding and personality.
Even goes against the "rules" and creates something completely new.
This makes branding really easy.
And FUN!
You just have to be you.
Ummm….
Woa…..
I dunno…..
You might say.
I'm really not that interesting and isn't that just totally selfish and self-centered?
Nope.
It's not.
You are doing everyone a favor by bringing out the true, awesome, real you, instead of the cookie cutter carbon copy you have been showing to the world.
Most people never realize how awesome and interesting they are.
How much they have to share.
And that's a pity.
Because the world is all the poorer for it.
So, be generous.
Do us all a favor and share the awesome you. The REAL you and all that you are passionate about.
You have something amazing to give. Deep down you know that.
So please GIVE.
If you need help digging deeper, try these 2 resources:
23 Powerful Questions to Awaken your Passion and Find your True Purpose
The Best Biz Book I've read in a long Time!
….
Supercool Example:
One of my readers was struggling to find a tagline for her new Etsy business.
She had started to come up with some examples and was dreading the process. She initially came up with a rather generic line about how her soaps were helping people, nothing exciting really.
Even though she was *working* hard on it.
And that was just it!
She was *working* on it. Laboring over it, when it should really be fun.
Then I discovered an email she had sent me a while back. At the time, she was about to start her first blog and had asked my advice on whether she should focus on nursing, since that's what she was teaching professionally – or follow her passion.
You can probably guess my answer and then I got this reply from her:
"I REALLY want to bring more fun and color and creativity to people"
WOW!
How is that for passion and inspiration?
What a beautiful choice of words and it came from her heart and soul.
Fun – Color – Creativity
What an unusually fun way to describe soaps and bath products.
I love it.
I want to buy right now!
Her soap creations were an expression of her passion to bring "more fun, color and creativity" to people's lives!
See how different and amazing that is than a generic description?
Who would not line up to buy those soaps?
Now we suddenly have an feeling image with them – a beautiful scene. Something we will always remember when we look at them. And it was genuinely and uniquely her.
3 beautiful words that stimulate joy and happiness…
When I mentioned this to her, she replied: 
"I realized  "color, fun & creativity" would also carry over to teaching and writing to inspire others. Tapping into the creative side of my brain has helped me find balance and I hope to empower or inspire others to find that for themselves as well. Soaps may seem so simple, but they are so much fun to make and design. And I love when they make someone feel special."
And – wow – another amazing line and expression of her true essence:
"I love when they make someone feel special."
See how these seemingly little statements changed her entire brand and how people perceive her products.
Now when I think of her products – the same products as before – I think how special they will make me feel, because they were handcrafted with such love. They bring color, fun and creativity to my life. And what could be more awesome than that?
Most of all, it wasn't a catchy marketing line – although it could be – it was genuine. And that's what touches people. All of us, even when we don't know why.
Another interesting word she mentioned was "Balance" and how being creative brought balance to her life.
You think that could be woven into the product description and whole brand/marketing strategy?
You betcha….
These soaps bring calmness to my life. Relaxation. Balance.
WOW – I'm so ready to buy them now. Really (and you can, too, over here…;-)
She suddenly enjoyed the process, too, and said – "this is so much fun."
Not tedious, awful marketing. Your boring homework that you have to get done.
No – it was a wonderful exploration.
She realized things about herself that she didn't even know and the results were mesmerizing.
How much FUN will you have with this?
Give us some AWESOME in the comments. I'll definitely read them and will love to check out your products.
BONUS Sassy Pointer
Include YOUR favorite Colors
I once had my aura photo taken.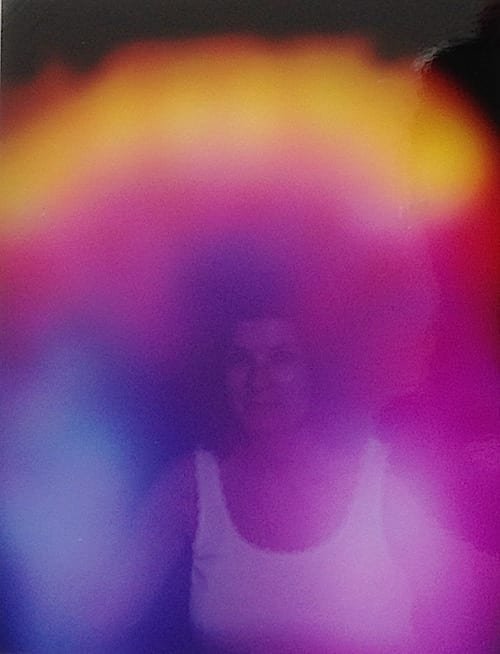 Yep – I admit – and before you laugh, the machine was actually developed by Nicola Tesla!
There is, of course, plenty of scientific proof that there is such a thing as an aura, an energy field around us that is a coloric reflection of our essence. who we are. It usually comes with a specific color pattern and it can change throughout life.
I was shocked when I saw mine, because it was the perfect expression and combination of my favorite color palette. The one I feel absolutely nsync with and nurtured by.
Holy Wow!
No worries, you don't need to get your aura picture taken…:) – but you know, of course, what your favorite colors are. The ones you deeply resonate with. That nurture you and make you feel awesome everytime you see them.
I can't walk past anything that's pink. I'm completely addicted to that color and it's a beautiful, nurturing feeling.
Obviously, I made it a major part of the SassyZenGirl brand and it's been awesome.
It gives me a rush everytime I see it!
Does everybody like it?
Nope.
Does is matter?
Nope.
Why would it?
You'll never please everyone and you don't need to, but you will attract the people who resonate on a similar frequency as you – and they don't all have to love pink…:)
THAT's why the thought of competition is silly.
If you are really, truly you – and your brand truly reflects that – there will be no-one like you and you will never have to worry about competition again.
Be a generic cookie-cutter BooBoo and the C word will always be a big problem for you, because generic is boring. You'll always need to fight for survival and you'll never quite get there.
So enjoy this EXPLORATION.
Have FUN with the ADVENTURE and have you and your brand melt into one awesome, unique expression of YOU!
— Woa – SUPER fluff – but cool…:)
———————————————————————————————–
On that note…
Show me some AWESOME – and share how SBE (= see title) is going for ya in the comments – and – how it makes you FEEL (ending on a high FLUFF 🙂
Can't wait to read it!
---
..
..……
…..