*********
My first Scuba Dive!
That one had been on my bucket list for a long time – and what better place to do it than a famous diving paradise like Amed on the Bali East Coast.
Amed is a small village – quiet and chill – the only tourists you'll find here are divers – and not too few.
As soon as I arrived I went about finding myself a good diving instructor and found the best (and cutest…;-) in Imade (pronounced Mah-dee) from Dream Divers Bali.
Dream Divers…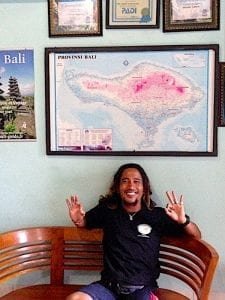 Made had grown up in Amed and knew the waters inside out. I always like to support local businesses and this would turn out to be a great choice.
Getting ready…..
The next day, I was fitted into my diving outfit….
and after some basic instructions, off we went to the water….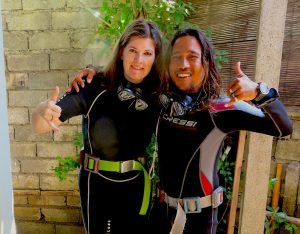 It was a glorious, sunny day and I was excited to get my feet wet – literally….
First "Steps" underwater…
Breathing underwater was surprisingly easy, but my ears had some trouble adjusting at first.
It took about 15 minutes until we were finally able to go deeper and saw this miraculous world:
What's it like?
Being deep underwater is at once magnificent and also a little terrifying.
After all, you can't just quickly come up whenever you want without incurring serious bodily harm, and you certainly can't breathe without a machine….
…so it's best not to think about it too much.
And that's actually one of the beautiful things about diving!
Not to think.
One of my friends sent me this quote afterwards:
"Diving is the Doorway to Nirvana"
Very fitting…
Made was very patient and gradually took me further down – and once I saw this exquisitely beautiful world, I quickly forgot all my concerns: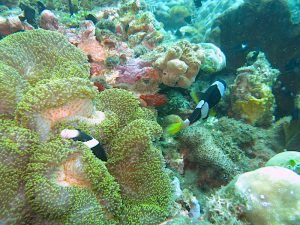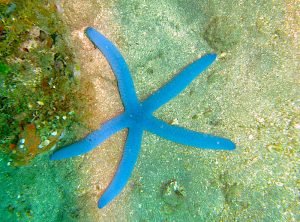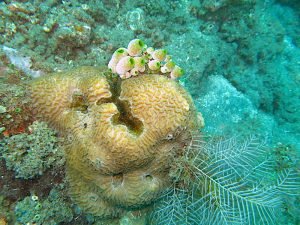 Diving with Ease…
It is amazing how quickly one is able to dive under water. It seems so much more complicated, but it isn't really.
Of course, I was a total beginner and couldn't have done it without Made – especially resurfacing later on – and I kept using breast stokes for the first half…..;-) – but overall, it was amazingly simple.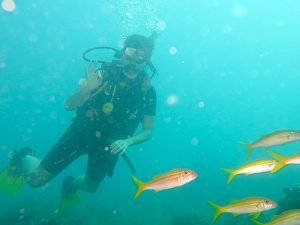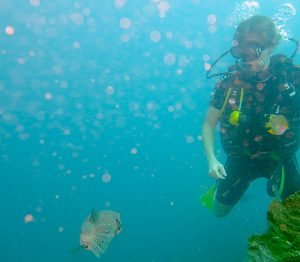 Back in the Sun….
After about an hour, we resurfaced and it was wonderful to bathe in the afternoon sun….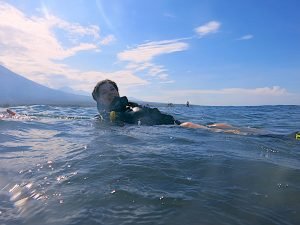 I definitely recommend to try a scuba diving at least once in your life – if you can, on a beautiful coral reef like Amed.
I will definitely go again and for now, will keep the beautiful memory of an amazing new world – and state of mind –
Nirvana….
Thanks, Made, for making this such an amazing experience! – I will be back soon…..
If you want to book a session with Made or his colleagues, visit DreamDiversBali.com