*********
Angkor Wat, the famous UNESCO Heritage site in Cambodia, is one of those once-in-a-lifetime experiences that really live up to the hype.
It is absolutely spectacular and seemed to get ever more impressive with every temple we saw.
Visiting Angkor is exhausting, for sure! You will never climb as many stairs in your life as in this one location and then there are the walks around the different sites. It's such an exhilarating experience, however, that you'll forget any fatigue – just bring good shoes….;-)
You definitely need transportation and the most commonly used mode is Tuk-Tuk – which should cost around $15 for the whole day.
There are 2 loops – a "little" (red) and a "grand" (green)  tour – though there ain't nothin' little about the "little" tour.
If you only have 1 day, this is the tour to take – possibly with a sunset ending – and you will be "templed up" for a lifetime….;-)
Angkor Wat lies near the town of Siem Reap, a bustling small town thriving on its tourist allure – and the obvious shortfalls that come with that.
Everyone will try to sell you something and Tuk-Tuk drivers especially are masters in getting you to pay more than the going rate or convince you to upgrade to a car…..
The best course of action is to book a driver through your hotel. They usually work with trusted drivers and fixed fees and you will not be faced with attempts to renegotiate along the way, begging for more or unsolicited upgrade attempts to a car. You don't need one!
A Tuk-Tuk provides plenty of breeze to cool off between stops and it is a much more genuine experience than sitting in an air conditioned car.
As I mentioned, prices are between $12-15 for a day – the driver will pick you up from your hotel and drop you again in the evening. Tuk-Tuk drivers are not tour guides. They simply drive you around to the different locations (at 400 km2, it's much too far to walk) and then you are on your own.
Guide books are sold everywhere in Angkor Wat for just $1 or you can hire one of the multi-lingual guides if you want more detailed information.
I did not and prefer to go by myself – and even then the so-called "little" tour took most of the day. It covers all the famous sites – Angkor Wat, the Tomb Raider Temple (Angelina's movie), Elephant Terrace and many more.
The "large" tour adds additional temples, but excludes some of the above and is really better suited for a 2 or 3 day stay.
For me, a 1 day tour was more than enough, because the experience is overwhelming and I prefer to soak it in, really enjoy and appreciate and not overwhelm my senses with ever more new temples – no matter how magnificent. But that's just me…..
This article will cover the major sites and my personal tips on how to make the most of your day (hint: the so-called "Angkor Wat Temple" at the beginning of the tour I found to be the least spectacular though it's certainly awesome, too!)
Currency in Cambodia is mostly US Dollar. You can also use the local currency – Riel – at exactly 1$:4000, but most places work with Dollars, so you don't ever have to change money.
Admission to Angkor Wat is $20 per day – $40 for 3 days and $60 for 7 days though prices will apparently double in February 2017, so be sure to check first. Your ticket gives you access from 5pm the day before so you can take in the sunset at Phnom Bhakeng (highly recommended).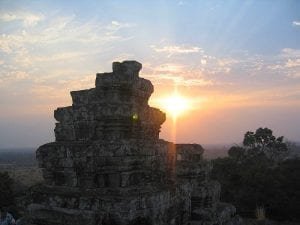 Like most of Asia, Cambodia is cash only – including any admission fees – so be sure to bring enough as cash advances usually cost around $20 per advance ($6-7 for the local ATM and $10-15 from your credit card company!) – absurd, I know, but that's how it is whenever you get a cash advance anywhere in the world and that doesn't even include foreign transaction fees which can add another 3% or so (some cards do not charge them – Capital One cards for example, and a few others).
Dress code at Angkor Wat is strict: both men and women have to wear clothes that cover shoulders and knees. A response to the recent nude selfies that some Western tourists felt they had to "grace" this sacred place with…..
Your tour starts at the Admission Office where you will buy your "Angkor Pass" – with photo ID – you need to show this at any temple you visit, so be sure to keep it handy.
And then your driver will take you into Angkor Archeological Park, a UNESCO Heritage site spread out over 400 km2 (!), housing numerous temples, hydraulic structures and communication routes as well as large forested areas.
The whole territory will be much bigger than you ever imagined…..
Angkor was the centre of the Khmer Kingdom from the 9th to 15th century and houses the magnificent remains of the different capitals.
Several villages – some dating back to the Angkor period are spread out over the park and people still live there, mostly as rice farmers.
Angkor Wat Temple
The most famous temple and the highest pyramid in Asia at 200ft. The central part has four towers in the shape of a lotus flower. Magnificent and stunning – but looking back, I found it the least impressive of all the temples. Again, just me….. – but don't spend all your energy there, because there's MUCH more to come…..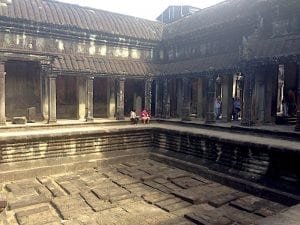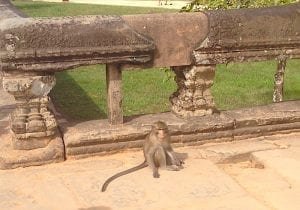 Phnom Bhaken – the Sunset Spot….
Next comes Phnom Bhaken. You have to hike through a forest, up a mountain and a number of steep staircases for about 20 minutes and are then rewarded with amazing vistas of Angkor Wat. Best known as the Sunset Spot and an amazing experience despite the crowds (see pic above).
Angor Thom
An ancient city and capital of the Angkorian Empire. Stretches over 9km surrounded by huge walls. Inside you can find some of the most famous structures the Anchor Archeological Park has to offer. You first enter through:
The South Gate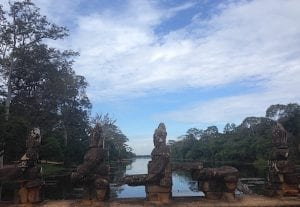 The Bayon
Possibly the most impressive temple in Angkor with more than 200 carved stone faces and 57 towers on a 3 story structure – the first 2 rectangular, the top level circular. Absolutely magnificent!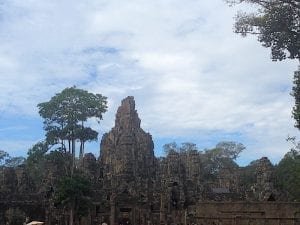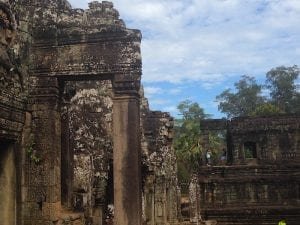 The Baphuon
A gigantic ruin meant to symbolize Mount Meru ("heaven" in the Hindu cosmos). You can walk around the outer ledges and once you descend on the back side a small pathway leads through a forrest for a while before rejoining the other major attractions at Angkor Thom.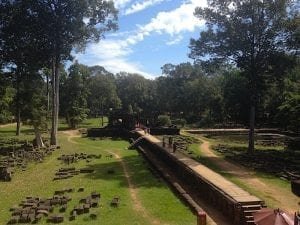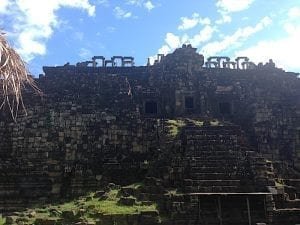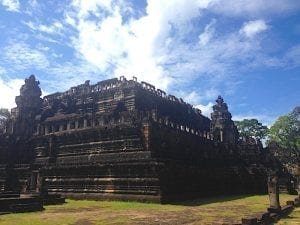 Beautiful Secluded Walk around the Royal Palace Area
My favorite part of the whole day! I love solitude and nature and for about 30min. I was all by myself, surrounded by a beautiful forrest, no outside sounds, just birds singing and the trees rustling. It was heaven!
Most tourists are busy exploring Elephant Terrace in the front and never venture this far back – lucky for you if you want a quiet moment…..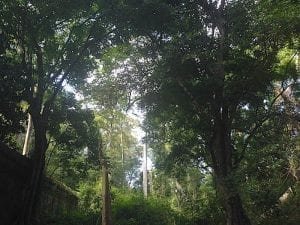 The little pathway ends in a small chimney shaped temple named Preah Palilay, an adaptation of the name "Parilyyaka", the forest where Buddha sought refuge after fleeing Kosambi.
From here you walk back to the main road and continue with the famous terraces.
Elephant Terrace and Leper King Terrace
Elephant Terrace is a gigantic 300 ft terrace lined with elephants and lions – used for large ceremonies.
Leper King Terrace is a 7 layer terrace named after the God of the underworld whose naked statue perches on top.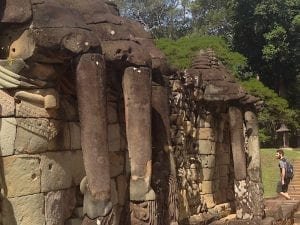 Victory Gate
From here you turn East and leave through Victory Gate (or North for the "Grand Tour").

 
Once you pass through the gate you are greeet by a beautiful temple on the right: Chasu Say Tevoda, a smaller temple with 4 large gateways – one in each cardinal direction – and 2 libraries.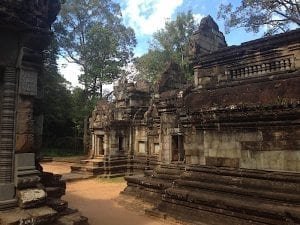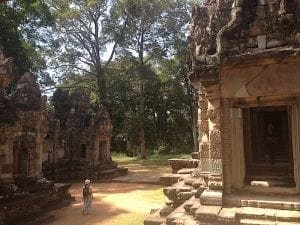 Ta Keo
A gigantic mountain temple – left unfinished after lightning struck. One of the first temples to be built from sand stone, a 22m pyramid and 50m tall towers. A masterpiece!
but – oh, so many stairs…..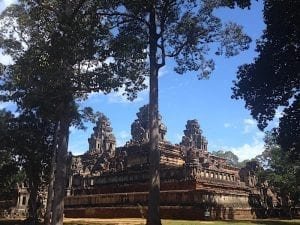 Ta Prohm (think "Tomb Raider")
Another spectacular archeological site and still covered in a jungle. Usually, the most crowded due to Angelina Jolie/Tomb Raider fame, so best visited in the morning.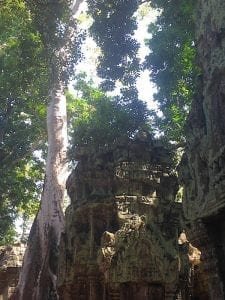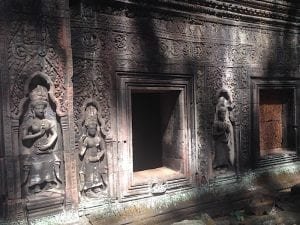 Banteay Kdei
Erected as a buddhist monastery and featuring beautiful bas reliefs, this temple offers a pleasant refuge from crowded Ta Prohm. I saw very few people here and the surrounding lake, and creeks nestled in the forest made for another beautifully quiet experience.
The temple is mostly a ruin a overgrown with jungle – a fun adventure to explore!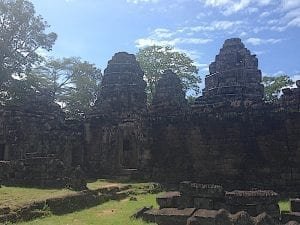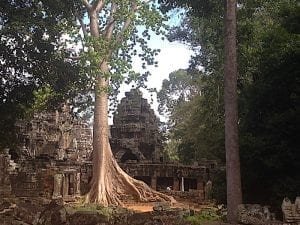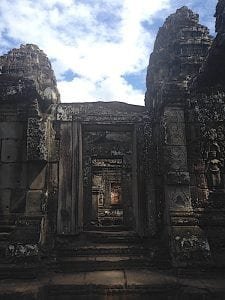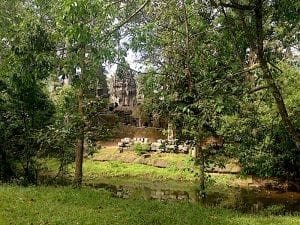 Prasat Kravan
A smaller brick temple known for its magnificent bas reliefs.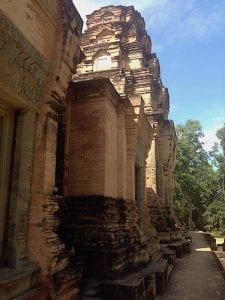 There you have it!
Seems very short when you just read through it, but can easily take 6-8 hours (plus lunch) to get through.
Overall, I found Angkor remarkably uncrowded, though I may have just been lucky that day – or maybe early December is not a busy time for tourism. It's also spread out over such a large area that even larger crowds can easily disperse. There are definitely quiet areas and lovely forest walks to get away from the main stream and some temples are busier than others.
I also really like Cambodia as a country and intend to return and explore further. Angkor Wat will definitely be on my list again and maybe next time I will buy a 3 day ticket and enjoy everything more in-depth. If you have the time, it's definitely recommendable and the days don't have to be consecutive.
You can do other things in between – there are many other excursions and day trips to explore from Siem Reap – and the little town itself is quite nice and features and Old French Quarter and Old Market area, both with many restaurants, cafes etc.
Next time I will probably spend a week here, do more day trips around the area, enjoy some more of Angkor Wat and the little town itself on a quiet day or two.
Hope you will, too….;-)
Related Articles:
Tugu Hotel BALI – An Art Collector's Dream
THAILAND – Ayuttaya
THAILAND – The Bridge on the River Kwai
BALI – Ubud